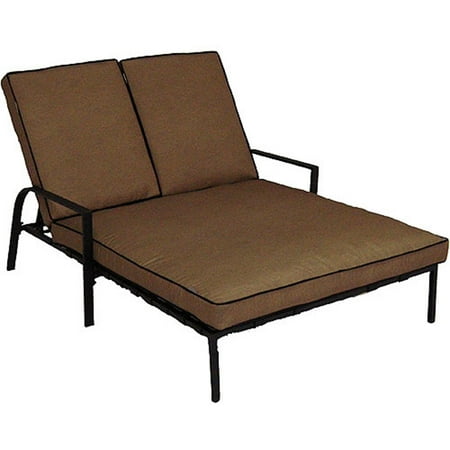 Have fun in the sun with the UV treated Braddock Heights Woven Double Chaise Lounge. This steel and all-weather plastic wicker can be placed on your patio, or by the pool. The right dimensions, quality seating and comfy back cushions make this chaise lounge sofa a comfortable choice. The 100% polyester and polyester fills of the cushions further add to its comfort. The upholstered fabric is stain resistant, water repellant, and dries very quickly, which makes this chaise lounge sofa an ideal choice for outdoor use.
Mainstays Braddock Heights II Double Chaise Lounge, Seats 2:
Chaise:
Constructed of steel and all-weather plastic wicker
Chair height: 35.25"
Chair width: 46.25"
Seat height: 9.5"
Seat depth: 43.25"
Fabric and Cushions:
100% polyester; 100% polyester fiber fill
Mildew and stain-resistant; water repellant and quick-drying
UV treated
Cushions attach to chairs with Velcro
Seat cushions: 5"H
Back cushions: 5"H
Manufacturer's Information:
Model# D/BDH-DCHS
Furniture will arrive in one box
Tools required for assembly are included
For more information please call 1-866-391-4865
reviews
My husband likes to fall asleep outside. This is perfect, comfortable, & the cover allows us to keep in out on the deck.
so the color is way off from whats in the photo its green with black edges but there is a website you can go to to get customized cushions which is what i plan to do. it is very sturdy me and my fiance layed on it the cushions are comfortable the only thing is the bar in the middle of it if you lay on it but an extra blanket underneath helps with that. i plan to do something about that all and all it wasnt to bad of a buy
this lounger was easy to put together, for someone with common sense and a pink tool kit. very comfortable, and perfect for two adult, or 1 mom and 2 babies…. because everyone loves to lay on it, now!
Love this double chaise lounger! Fits two people comfortably. I'm just a little worried about the cushion as the fabric could be thicker. Let's see how it will hold up. Very reasonably priced.
It was a little complicated to be home during the day since they needed us there to receive the package, also while putting it together one leg would not fit in its receptacle (but a hammer got it in), a back pillow really helps with support as the chair angle is not easy on a delicate back, but all in all we love it. It does not look as if the rubber pad support straps will last very long, but they could be replaced with rope eventually, and the very thin padding cover cloth looks like it will be lucky to make it through its first summer in the sun, but we are keeping a blanket over it to extend it. For its price it's a great value.
Quality is very good for the price. Not easiest to assemble by one person. Cushion is not very firm, but not expected for the price. Replacement cushions may be an issue unless you use just two regular single chaise cushions together. Came in excellent condition, no scratches, etc. Had delivered to store which worked very well, and arrived earlier than expected.

This item was very difficult to assemble. The cushions are pretty thin and you sink down very low. The worst thing about this product is that the color does not arrive as advertised. In the picture it looks like a rich brown color. When they arrived, they are a hideous olive green color. It is completely different then what they are selling. I would have returned this product if the shipping wouldn't have cost so much. Very dissatisfied with this purchase.
Mainstays Double Chaise Lounger, Stripe: Durable, powder-coated steel frameFour corner panels independently recline to three adjustable positionsStripe patio chaise lounger that seats two includes two...
Mainstays Double Chaise Lounger, Tan: Durable powder-coated steel frame4 corner panels independently recline to 3 adjustable positions2 pop-up side tablesIncludes 2 throw pillows with 100% outdoor fab...
Braddock Heights Woven Double Chaise Lounge: ; Chaise: Constructed of steel and all-weather plastic wicker Chair height: 35.25" Chair width: 46.25" Seat height: 9.5" Seat depth: 43.25" Fabric and Cush...