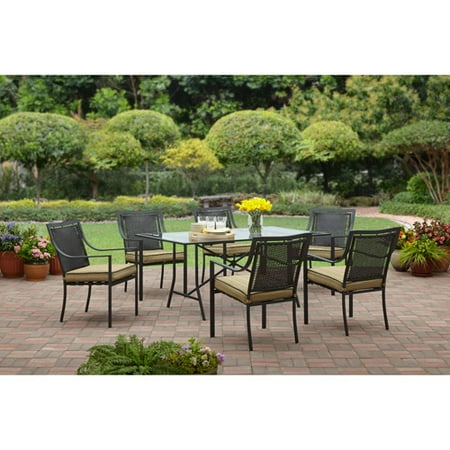 Enjoy dining outdoors with this stylish 7-piece dining set. It includes a sturdy glass and steel table, along with six cushioned chairs. A space of 12′ x 9′ is required for this woven outdoor dining set.
Braddock Heights 7-Piece Patio Dining Set:

Table:
Rectangular, tempered, gray glass tabletop
Glass tabletop is 0.2" thick
2" diameter umbrella hole; umbrella not included
Steel legs are durable and rust-resistant
Measures: 38"W x 28.5"H
Chairs:
6 stackable armchairs
Constructed of steel and all-weather plastic wicker
Supports one person up to 225 lbs.
Chair height: 35"
Chair width: 22"
Seat height: 18.5"
Seat depth: 19.5"
Fabric and Cushions:
100% spun polyester; 100% polyester fiber fill
Mildew and stain-resistant; water repellant
UV treated
Dries quickly
Cushions attach to chairs with Velcro
Seat cushions: 3.5"H
Manufacturer's Information:
Model# D/BDH-7PC
Hometrends patio dining set will arrive in 2 boxes that may arrive separately
Box 1 shipping dimensions: 41.73″H x 32.37″L x 22.23″W; weight: 96.14 lbs.
Box 2 shipping dimensions:42″H x 33″L x 22.4″W; weight: 96.3 lbs.
Tools required for assembly are included
Includes manufacturer's limited 1-year warranty
For more information about this 7-piece dining set, please call 1-866-391-4865
reviews
I purchased and owned this set for 8 years and could not disagree more with the reviews that say it doesn't last. I did cover it every year for the winter, but other than that, this was outside in the DC elements and withstood the weather amazingly well. It never rusted and the cushions still looked great. I only sold it when I moved cross country. Now I'm looking for a new set and I'm considering buying the same one! Highly recommend. Pro tip: The cushions got a little stained one fall when I allowed leaves to decompose on them for months. They cleaned up nicely with some power washing, but I recommend flipping the cushion up when not in use- it keeps the debris off and also ensures that they dry more quickly after it rains
This is the best deal you can find. Wicker backs and a cool glass table. 7pc dining set for $400!!
I purchased the dinner set and 3 piece bistro set 9 years ago and they are holding up great. Over the past 3 years they have faded and the tables have a small amount of rust in spots under the glass. I now give them a quick can of spray paint each year and they look great… We always take the cushions in and in the winter we put the furniture in the garage. At the end of this season, I'll get new cushions on clearance and it will look great for another 5 years. I was really surprised how well the faux webbing held up.
I received my Braddock Heights 7 Piece Patio set with broken clips (clips required to hold the glass into the table) I felt it was no big deal but I had family over and the straps in the seat became loose very quickly. After just one use and multiple chairs. The individuals sitting were well under the 225 recommended weight. It shows the product is of poor quality and I would like a full refund. I have the Braddock Heights bistro table and chair. I purchased it close to 8 years ago and I'm still using it. It has held together quite nicely. I know they make quality products but I feel this one was a miss.
;p;;b;Braddock Heights 7-Piece Patio Dining Set:;/p;;br /;Table:;/b;;ul;;LI;Rectangular, tempered, gray glass tabletop;LI;Glass tabletop is 0.2;; thick;LI;2;; diameter umbrella hole; umbrella not incl...
;br;;b;Better Homes and Gardens Englewood Heights II 7-Piece Patio Dining Set, Seats 6:;/b;;br;;br;;b;Table:;/b;;ul;;li;Substantial cast aluminum frames have a rust-resistant finish;li;Built-in hole i...