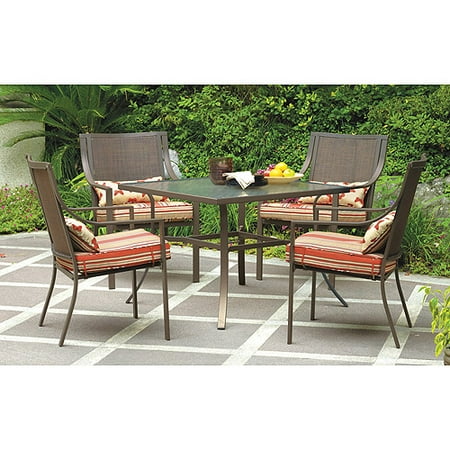 Create an outdoor oasis by adding the Mainstays Alexandra Square 5-Piece Patio Dining Set, Red Stripe with Butterflies to your patio or backyard. Each piece features a durable, powder-coated steel frame to help keep it looking new season after season. This 5-piece dining set comes with a glass top table and four chairs with patterned, polyester-filled cushions.
Mainstays Alexandra Square 5-Piece Patio Dining Set, Red Stripe with Butterflies, Seats 4:
Table:
Durable, powder-coated steel frame
Woven-look tempered glass top
Care: use a mild solution of soap and water; pat out excess moisture
Dimensions: 37.99″L x 37.99″W x 27.95″H
Chairs:
Durable, powder-coated steel frame
Care: use a mild solution of soap and water; pat out excess moisture
Dimensions: 25.98″L x 24.21″W x 37.01″H
Fabric and Cushions:
Faux wicker woven sling back for extra comfort
Cushions: 100-percent outdoor printed fabric
Cushion filling: 100-percent polyester
Sling fabric: polyester with polyvinyl coating
Comes with easy on/off clip
Cool, comfortable ventilated seating
Care: use a mild solution of soap and water; pat out excess moisture with dry towel after rinsing; allow to air dry
Never use bleach or strong solvents for cleaning
Manufacturer's Information:
5-piece dining set will arrive in two boxes
Mainstays dining sets come with a one-year limited warranty
Site to Store Pickup Note: This item is packaged in multiple large boxes that may not fit in a standard-sized vehicle. Please make sure you have a large car or truck for store pickup.
Box 1 dimensions: 37.99″L x 37.99″W x 27.95″H; weight: 42.99-pounds
Box 2 dimensions: 25.98″L x 24.21″W x 37.01″H; weight: 73.85-pounds
reviews
I really love this patio set! I've been shopping around for so long and finally took the plunge! JUST got it all put together BY MYSELF! I assembled one chair last night and then finished the rest today. I think, all in all, maybe it took me around 2 hours to complete the entire assembly process. I don't understand the reviews where people say you have to have 2 people to put this together. You really don't. I put the chairs together in my living room and put the table together outside. The table took like 5 minutes! lol ***It is BEST to really pay attention to which bolts go where too. I thought I was short some hardware but then realized it was just that I'd put some of the wrong bolts in the wrong places. Turns out I wasn't short on any hardware at all. Matter of fact…they gave me a few extra just in case. Very cool and appreciated!:) It's all packaged together very well which is good because the 2 boxes it all arrived in looked like they'd been through the wars. There was zero damage to my set, however.:) The instructions are a little visibly vague but I got it all figured out. And by the time I made it to chair number 4…I was a pro!;) It's a very sturdy and well manufactured set and it looks so pretty! I'm looking forward to lots of enjoyment from it! 🙂 The reason for the 4 stars instead of 5 is because of a flaw that I only discovered once it was all put together. I'm trying to figure out how to deal with this because it could prove to be semi-dangerous. The corner of the metal frame that encases the glass top (which has a cool basket-weave pattern, btw.;) …doesn't quite meet together and is a little bent upward causing a sharp edge. Any suggestions on how I might remedy this issue would be appreciated!:) Thanks!!:)
I bought this set in the summer of 2014 at the store. It has held up very well, no fading of the fabric noticed at the 3rd summer in use. Very satisfied!
Recently got this patio set. Really happy with purchase. No problems with the assembly, love the color of cushions. Table does have hole for umbrella. This patio set is great for small area.
I bought this with the matching 3-piece bistro set for my patio. I looked all over for an inexpensive patio set that didn't look cheap – this most definitely fits the bill. I didn't have any problems with assembling as others have mentioned, but two of the four chairs wobble because the bolt holes appear to be too low on the leg (that's good quality control for you). It's not so drastic that I would go through the hassle of returning, but I may make new holes on the leg to correct it if it really ends up bothering me. Overall, it looks great on our patio – the chairs are comfortable, the striped cushions are nice, and the table is sturdy and large enough for four people to eat without bumping elbows. I'd recommend this set with the reminder that you only paid about $50 a piece, so don't be too disappointed if it's not quite perfect.
Love this little table! Didn't take me long to set up (probably a few hours once I got the hang of it) a few of the wholes didn't line up exactly, but I made it work. Chairs are very sturdy.
Bought this set for my son & wife, they have a small 2nd floor patio. He put it together with ease. It looks great. Fits well in the small area. Looks so nice with cushions. Very comfortable and sturdy!
Chairs were difficult to set up-screw holes were slightly off. Had to call and order a new arm/leg piece because the screw holes were about an inch off! Walmart was not responsible and would only take the whole set back. After it being set up for my elderly parents they were not about to take it apart and bring it back. Walmart gave 20% back only after having a fit about the set. The manufacturer will be sending out a new pieice for the chair but not for 4-6 weeks. So, needless to say my parents are living with 3 chairs for half of the summer! More of a hassle than I wanted!!