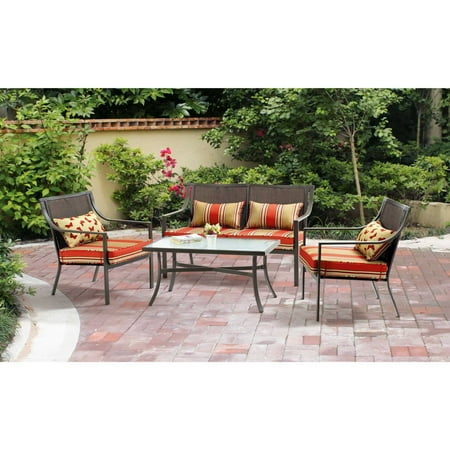 Gather family and friends around this outdoor conversation Mainstays Alexandra Square 4-Piece Patio Conversation Set. This set includes two chairs, one loveseat and one coffee table with a tempered glass top.
Alexandra Square 4-Piece Patio Conversation Set, Red:
Table:
The Mainstays Alexandra Square 4-Piece Patio Conversation Set table is made of durable, powder-coated steel frame
Woven-look tempered glass top
Care: use a mild solution of soap and water; pat out excess moisture
Dimensions: 37.99″L x 22.05″W x 18.11″H
Chairs and Loveseat:
Durable, powder-coated steel frame
Red stripe with butterflies outdoor conversation set care: use a mild solution of soap and water; pat out excess moisture
Chair dimensions: 28.54″L x 26.38″W x 31.89″H
Loveseat dimensions: 28.54″L x 49.61″W x 31.89″H
Fabric and Cushions:
Faux wicker woven sling back for extra comfort
Cushions: 100 percent outdoor printed fabric
Cushion filling: 100 percent polyester
Sling fabric: polyester with polyvinyl coating
Comes with easy on/off clip
Includes lumbar pillows
Cool, comfortable ventilated seating
Care: use a mild solution of soap and water; pat out excess moisture with dry towel after rinsing; allow to air dry
Never use bleach or strong solvents to clean any of your patio furniture set
Manufacturer's Information:
Furniture will arrive in 1 box
1-year limited warranty
Box dimensions: 50″L x 33.07″W x 17.72″H; weight: 100.53 lbs
reviews
The furniture set arrived in one large box. My husband and I put it together rather quickly, maybe an hour. My husband really liked how the assembly kits were individually packaged and well labeled Our set went together smoothly and makes a beautiful addition to our porch. The color is an orange/red and 4 adults sat comfortably. One of our seat cushions had some stitching that was coming apart. I called the number provided in the directions and they are sending us another cushion. From ordering to setting it up on our patio was a very easy process!
After a higher degree of difficulty in assembly, the set looks great. The bolt holes in the legs, seats, and back don't align well and caused me to cross thread a bolt. After I cross threaded one bolt I took extra care to get all of the bolts started before tightening them. It took some effort to bend the legs enough for the bolt holes to align.
I am super happy with this set. And they are better than I thought they would be. They weren't that difficult to put together. One chair had to be forced a bit because the hole was a little off. But overall I would say this was a simple job that didn't take very long. Super cute.
I am very satisfied with this Alexandra conversation set' it is sturdy and beautiful. My only complaint comes from my son whom put it together for me. He says that some of the holes don't line up properly which made assembly a little difficult. But overall, I love it and would recommend it to anyone.
I got this mainstays patio set because it was the cheapest one compared to brand named ones. It was fairly easy to assemble but upon finishing it I noticed 2 of the 3 seats had massive wobbles. The screw holes must've been off causing it to be uneven thus wobbling. The big seat came with a chip in the metal. You have to be strong to push the arms against the seat to screw the screws in. You can tell its cheap. Other than that it's a nice set for the price.
The set is perfect for a covered patio. It is easily assembled with good instructions. The one knock would be the huge box in which it comes. What matters is that it pleased my wife!!
Set came well packaged and was easy to put together. Directions were easy to follow and all parts included. Only marked down because seats are slightly unbalanced but not enough for guests to care. Looks nice and seems well made.
have to replace the 2 chairs. couldnt even put them together as they came out of the box bent. dont think my box was inspected….. Unsure I'll order from Walmart again if the furniture comes like this.