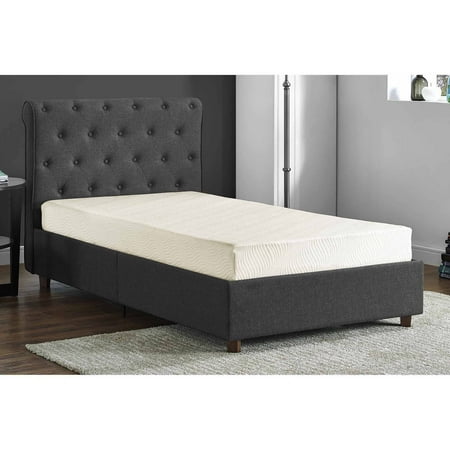 The Mainstays 6″ Memory Foam Mattress is designed to make you feel like you're sleeping on a cloud. The soft polyester cover and memory foam cradles your body and relieves pressure in all the right places on the shoulders, spine, hips and feet to ensure balanced support so you wake up well rested. In addition, the memory foam eliminates motion disturbance and lets you sleep throughout the whole night without any interruption. With the Mainstays 6″ Memory Foam Mattress, your body will feel brand new every morning!
Mainstays 6″ Memory Foam Mattress, Multiple Sizes:
Memory foam reacts to body heat and pressure and molds to the body's natural shape, thus evenly distributing body weight and alleviating unnecessary pressure on joints
It returns to its original shape once you remove the pressure
Reduces back pain and increases circulation for better sleep
6″ mattress thickness
Soft cover is made of Polyester
Meets federal flammability standard 16 CFR 1633
Mattress is shipped compressed, rolled and vacuum sealed
Allow 48 hours for the bedding to expand to its proper size and shape
Bed frames sold separately, see our assortment of bed frames
Available in twin and full size
Twin mattress dimensions: 75″L x 39″W x 6″H
Full mattress dimensions: 75″L x 54″W x 6″H
Twin mattress box dimensions: 40.5″L x 11″W x 11″H
Full mattress box dimensions: 56″L x 12″W x 12″H
Twin mattress weight limit: 200 lbs
Full mattress weight limit: 450 lbs
Beds sold separately. See our assortment of beds.
Bed frames sold separately. See our assortment of bed frames.
Great for platform beds. Requires foundation or box spring with standard bed frames.
Foundations sold separately. See our assortment of foundations.
Reviews
We bought 3 of these for our daughters daybeds and we had bought one last year for a bunk bed in our summer place. They are great, cheap money for a foam mattress. (We have an expensive temper pedic in our master bedroom at the summer place and a sleep number bed at home for us , believe me both of these beds were ridiculously priced . ) for 89.00 a twin bed they work perfect and are a bit firm but we like that better. My girls sleep great on them. They come in great small boxes and need time to rise up to get bigger. We have one more daughter that will be needing a big girl bed in a few years and I will defiantly buy this mattress again for her.
I am very please with the memory foam mattresses. I bought these for a twin day bed and they fit perfectly and will be very comfortable for my grandchildren.
Great buy for the price only fault is when we measure it's not a full 6″. The sheet was a little loose but for a 3 and 4 year old we made it work.
This mattress is halfway decent, it's not super soft like a real memory foam. Spend a little more money and get a real memory foam mattress.
Disappointed that these mattreses were not 6 inches as described. Would not suggest these to other people.