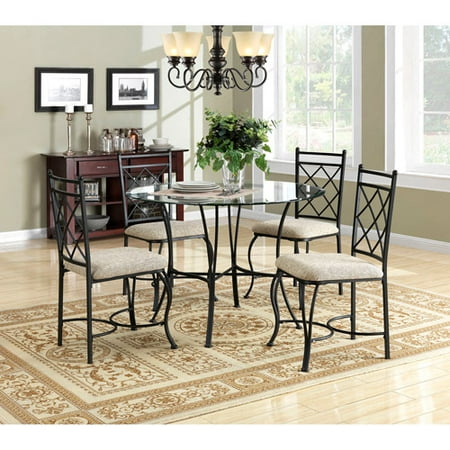 This Mainstays 5-Piece Glass Top Metal Dining Set features a clear glass-topped metal table and four matching upholstered chairs. It seats four people comfortably and will add an upscale look to any dining room or kitchen. The sleek, contemporary look goes with any decor. You'll up the elegance factor of any meal when you enjoy it on this 5-piece dining set. The microfiber upholstery on this dining set provides plush comfort and complements the metal work on the chair and table legs for a coordinated, polished look. Some assembly required.
Mainstays 5-Piece Glass Top Metal Dining Set:
Seats 4
Traditional styling
Includes beveled glass top and metal table and 4 metal and microfiber upholstered chairs

Table measures: 30″H x 42″ diameter
Chairs measure: 17″W x 20.8″D x 36.5″H

Some assembly required
Ships in 1 box
Mainstays 5-Piece Dining Set Model #WM2412RDC
reviews
I love my new table and chairs. Assembly was relatively easy, it's all done with a Allen wrench provided, but by the end, my fingers were killing me. No power tools allowed according to directions. I assembled it alone and it took a couple hours. But looks fantastic.
It's good for what it cost
I love my dining table. Only thing to take care is if you order pick up make sure you have a big car. I couldn't fit in the big box in my honda civic so had to open up the box at the store. It's really easy to put together, will take about 2 hrs to finish.
Looks gorgeous. Very stable.Easy to assemble. Worth every penny. Had few screws missing.
I'm satisfied with my purchase. Nice product and good price
I want to say that the quality of the dining room table set is excellent, I'm glad that I purchased. I had been looking for one and found this one,it's pretty sturdy. Great Value!!!!!
I just got this dining set a couple of days ago. I went with free delivery to my local store. Service was great. It was delivered very quickly and in good packaging. It's a huge box weighing over a hundred pounds so if you pick it up you will need a large vehicle, and some help to take the box out when you get it home. We have a truck so it wasn't bad. It took my son in law about 2 hours to put it all together, but there didn't seem to be any real problems getting all the pieces to fit. I have a lot of home school going on in my small dining room so this set is really a good fit for me. The chairs don't go all the way under the table, but far enough to be out of the way. In my humble opinion the set is beautiful. I love it. Some reviews said that the chairs were uncomfortable and hard. For the price point of this set I don't think they are bad at all. I love the color of the cushions. In the photo they look a lighter beige but really they are speckled with a tan, brown, and black. A neutral color that would go with just about any decor. If I decide to cover the seats it won't be to hide them, but to protect them. Also, I don't see any problems with a large person sitting in one of the chairs. I'm not so tiny myself and they hold me up just fine. They seem very sturdy. My husband didn't like the idea at first when I ordered this set changing out my all wood dining furniture for this one, but when it came and we got it set up he changed his mind. He loves it as much as I do. I highly recommend this set if you have a small dining room as I do, and you don't feel like paying a huge amount of money. The glass top is very heavy, and it stays put. I have a toddler grandson that I take care of everyday so that was a concern. No worry at all. Once you get the top lined up in the correct spot on the little suction cups it's there to stay. I don't know at this early stage if the glass will scratch, but I can say that in the few days that I've had my set it has been piled with heavy books, computer, and home school stuff that has gotten pushed around all over the table. No scratches! Looks beautiful! Fits beautifully in a small space. It's really a nice set looking much more expensive than 159 dollars. It's not a wimpy cheap looking table and chairs at all. I am very happy with my purchase.
I bought this less than an year ago, initially it looked great to me at a very good price. However the chairs are now free, the screws come out time and again. I have tried to fix them multiple places / multiple times but nothing works. I have tried to call the customer support, since this is outside the warranty, they too can't help me.