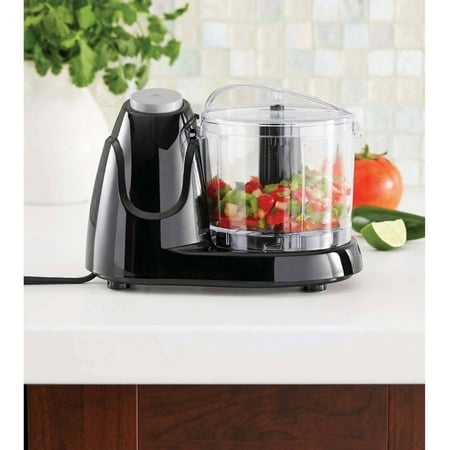 Whether you want to chop, slice or dice vegetables, the Mainstays 1.5-Cup Food Chopper, Black, FPMEMC3002-BLK does it for you in minutes. Powered by a 150-watt motor, this mini chopper has a three-cup-capacity work bowl with a sharp S-shaped stainless-steel blade that chops, slices, dices, purees and more. Choose between the two speeds, Hi and Low, depending on your needs. You may use this mini vegetable chopper for anything from chopping vegetables for a homemade pizza to pureeing garbanzo beans and garlic for a hummus spread. The drizzle hole on the lid makes adding water or oil while chopping a breeze. This stainless steel blade chopper comes with dishwasher-safe parts, which means cleaning is a snap. The cord tucks neatly away enabling compact storage. Available in black with chromed accents, the Mainstays 1.5-Cup Food Chopper, Black, FPMEMC3002-BLK will make an attractive yet functional addition for your kitchen.
Mainstays 1.5-Cup Food Chopper, Black, FPMEMC3002-BLK:
3-cup capacity
Stainless steel S-blade
2 speeds: Hi and Low
Independent, extra large Hi/Low buttons
Drizzle hole on the lid for adding liquids during chopping without having to remove the lid
Convenient cord storage
Whisk attachment included
Spatula included
150-watt motor
Dishwasher safe parts for easy clean up
Black with chrome accents
reviews
I love this product. It has saved me so much time instead of chopping with a knife. I cook more different types of dishes and my husband loves them. He even asks for seconds. I would suggest the chopper to anyone who loves cooking and want to spend less time in the kitchen.
It does very well what is supposed to do, I am very impressed with this little thing.
Much smaller than I expected but has alot of power and chops well.
Very,very pleased with this bargain priced chopper. Easy to use and to clean.
I'm a family of 3 and I mainly cook for my boyfriend and this chops up the perfect amount for 1 to 2 people. Strong little thing for 8 bucks!!! I debated getting a 40 dollar food processor from kitchen aid just because I'm a sucker for "pretty" colors… My boyfriend on a shopping trip convinced me to give this a try because it was so cheap and I'm glad he did!! Amazing
Just purchased this item since it was priced low It is a very good chopper chops onions/garlic greens etc very well easy to operate and clean up afterwards lightweight and small for easy storage However the description give is not correct it has only one press switch the cord is short and does not come with spatula
I returned a $70 food processor because I realized all I was using it for was to chop small amounts of vegetables. I thought I'd give this chopper a try because the price was so low. What a great little bargain! Chops very well and quickly, and with only 3 small parts to rinse/wash when you're done. I've not only done vegetables, but used it to chop up some mozzarella cheese for a pizza. Contrary to the product info here, this does not have two speeds. Just one, and only with a pulse button. You have to hold it down for as long as needed. For the price, this is really an excellent little machine.
I've had various mini choppers over the years. When I dropped my last one and broke the bowl I thought there can't be much difference between brands and this one had good reviews so I ordered it. I am very unhappy and am returning it for another model. All the previous mini choppers I've owned chopped smaller the longer you pushed the button down. I can hold this button down for awhile and still not get the really fine chops that other brands have given me. Then it fights me to get the bowl and blade to let go easily to take it apart and clean it. I'm afraid of breaking the plastic Brands that have worked lots better for me are Black and Decker, Proctor Silex and Oster (Told you I've used them for years.) This one matches the design of the Rival choppers so I assume it is manufactured by Rival or whatever conglomeration makes the Rival. I'm going back to the last brand I had – Proctor Silex. Black and Decker lasted the longest, about 18 years.