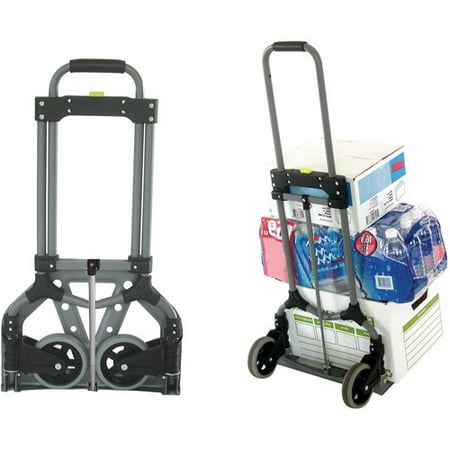 The Magna Cart Ideal provides you with a sturdy, convenient way to load and carry groceries, packages, luggage, crates and more. You can put it to work at home or in the office. This handy cart features a convenient folding design that allows it to fit easily into your car, shed or closet. Its design extends to 39″ tall, allowing it to accommodate items stacked just as high up to 150 lbs and compresses down to 28″ when not in use. This folding cart features a rugged build with a 19mm steel frame that weighs under 9 lbs and is ready for use in seconds.
Magna Cart Ideal:
Opens with a touch of a button
Use for home, groceries, luggage or at the office
Handy cart extends to 39″ tall
Compresses and folds to just 28″ tall and 2.5″ thick
15″ wide steel base plate
Rugged 19mm steel frame (parallel tubes)
Weighs under 9 pounds
Takes seconds to open and close
No assembly is required
Magna Cart Ideal maximum load capacity is 150 lbs
Warnings
:
California Proposition 65 Warning: WARNING: This product contains chemicals known to the State of California to cause cancer andbirth defects or other reproductive harm.
reviews
Magma cart is the best. Easy to fold and unfold to haul boxes into your home or office. Takes up little space in your trunk.
I bought this cart to help carry my laundry baskets since I live in an apartment where the parking is on the street. I'm able to take all my baskets in one trip with the help of 2 bungee cords. The cart works great, takes the stress off my back. Only downfall is the wheels are small it makes it a little difficult to get down stairs or the curb.
I misplaced my 1st Magna Cart, the smaller Aluminun one, with this larger version. Great product and upgrade! Best feature: longer extending handle! Great, compact design!
this magna cart has worked out very nice for me, sturdy, easy to open or close, stores away without taking up alot of space. I have to park about 2 blocks from where I live and this cart is a life saver, makes getting grocery or large items much easier to get to my apartment.
I love this easy fold a way storage cart. Now I can buy large bags of item instead of small bags like dog food, and ice melt products.
Love this, everyone should have one. Sure saves the back!
This item was exactly what I needed. The retractable function is easy to use. The wheels work on paved sidewalk and grassy areas. Being fordable, it saves a lot of space in the trunk of my car.
I ordered several of these collapsible 2-wheeled carts so they could be used at a food distribution recently. They worked out very well – easy to open and close, sturdy, and holds up to 150 pounds.
Great price but not sturdy. Worth it to spend more money and get better quality.
Magna Cart Ideal: Opens with a touch of a buttonUse for home, groceries, luggage or at the officeHandy cart extends to 39" tallCompresses and folds to just 28" tall and 2.5" thick15" wide steel base p...
Lightweight and easy to move, the Magna Cart makes moving supplies or luggage a breeze! Features:Folds quickly for easy storage.Non-marking wheels for easy portability.Perfect for moving cargo at home...