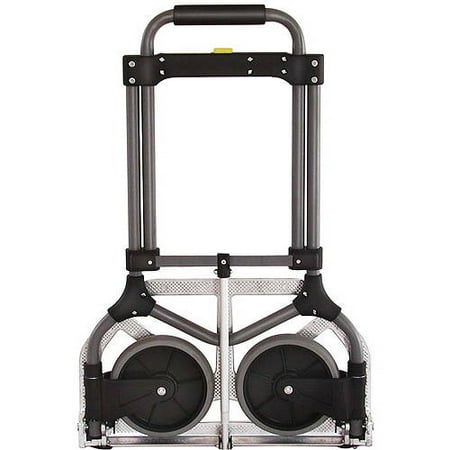 The Magna Cart 200-Pound Capacity Hand Truck helps you move bulky items with ease. The sturdy construction of this truck can easily handle loads up to 200 pounds. The major plastic stress points of this luggage hand truck are made of durable nylon, making it ideal for carrying heavy luggage at the airport or moving boxes at home. This two-wheel hand truck folds down in seconds to a two-inch thin profile that's easy to store.
Magna Cart 200 lb Capacity Hand Truck:
Folds down to 2″ thin and 29″ tall
Opens and closes in seconds
Major plastic stress points made of nylon
Other plastic pieces made of polypropylene
Weight: 11 lbs
Carrying capacity: 200 lbs
Plate dimensions: 11″L x 19.25″W
No assembly required
Warnings
:
California Proposition 65 Warning: WARNING: This product contains chemicals known to the State of California to cause cancer andbirth defects or other reproductive harm.
reviews
It is perfect for fitting in the trunk. I use it to carry 89 pound hydraulic pumps and heavy power take offs
Easy to use but the only issue I have is the handle is not long enough because I'm 6′ tall but other then that…
Very sturdy and folds conveniently. I highly recommend using a bungee cord to tie down your merchandise.
Just what I needed in my small work truck. It's strong enough to carry my tools and equipment.
I use this on a daily basis for work. Folds to a compact size. I' ve put some very heavy boxes on it. Approximately 70lbs total with no problem. Very stable for its size. I had been given a very "used" version of this hand cart. I used it for at least 3 yrs. and it was taken. I bought this one based on how durable the old one was. This will carry a large ice chest filled with ice-no problem. Can stack 3ft.-higher if you get the hang of it. 4 to 5 stars. Very good buy.
I love the big wheels. They help it go smoothly over curbs, door sills, concrete expansion joints and other bumps. Other reviewers pointed out the plastic joints, but this thing is heavy duty. It isn't light in weight either, but the aluminum frame lightens it while the beefy plastic gussets reinforce it. We're very pleased. And I'm obsessed with the large diameter wheels. If you've ever used a small hand truck with tiny wheels, you'll know what I mean.
Not only did I buy the heavy duty cart, I bought the smaller for my sister! Folds up tiny, but expands and does great things. Wouldn't want to be without it…
Item seems sturdy enough and much less expensive than ULine or the Office Big Box stores. A little heavier than I would have wanted but overall meets the need at a great price.
Good price for a strong hand cart. Trouble is I'm 6'1″ and the handle length is too short. I'm constantly tripping over the wheels as I pull or push the cart. The handle length brings the wheels too close to my feet.
Magna Cart Elite hand truck makes moving heavy items safe and easy 200 lb. weight capacity Measures 28.5Hx 19.25W x 2.5D; expands to 39 tall