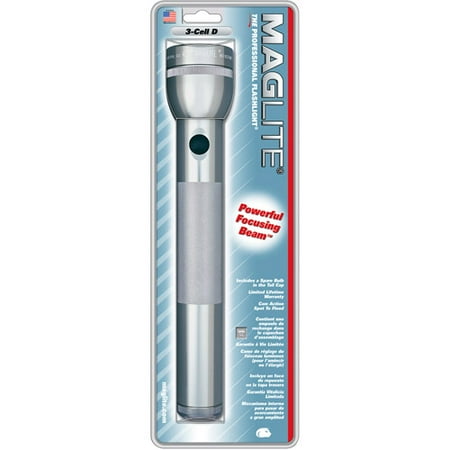 The MagLite 3 D-Cell Flashlight embodies a balance of refined optics, efficient power, durability and quality, making it well-suited for both professional and consumer use. Each MagLite D-Cell flashlight includes two White Star Krypton gas lamps for enhanced brilliance and range. These lamps create a high-intensity flashlight that can be adjusted from spot to flood with just a half turn of the handle. With its distinctive, shock-resistant design, this flashlight is practical for professional, sporting, home or automotive applications. The durable aluminum-alloy-case flashlight also has a diamond-knurl surface design for grip. This high-intensity flashlight in gray is anodized inside and out, ensuring resistance to corrosion. The MagLite 3 D-Cell flashlight is water-resistant due to its O-ring seal. In addition, the aluminum flashlight has a 3-position function button: on, off and signal. It also features a spare lamp secured safely in the tail cap.
MagLite 3 D-Cell Flashlight, Gray:
Diamond knurl design
High-intensity light beam
1/2 turn, cam action focus, spot-to-flood
Self-cleaning rotary switch, 3 position: on, off and signal (manual, momentary on-off)
Spare lamp safely secured in the tail cap
High-strength aluminum alloy cases
O-ring sealed for water resistance
Shock resistant
Anodized inside and out for improved corrosion resistance
Individually serial numbered
reviews
It's a very good flashlight that seems very sturdy. It's a little pricey for a flashlight but I expect it to last a long time with the lifetime warranty. It'll be fine as long as the batteries don't leak because that'll void the warranty. Very bright. I would have given it 5 stars but like I said it's pricey.
It's a great flashlight and I like the way the beam is adjustable. It's also a good defense weapon. I got this one for my house but I've got two 4 D cell lights for my car and truck.
I purchased mag lites for each of my daughters so they could have a safe, reliable flashlight in their cars. I am confident that I bought the right product. I did a lot of online shopping. Certainly, there are better lights if you want to fork out $80 but not everyone has that in the budget. I recommend any mag lite.