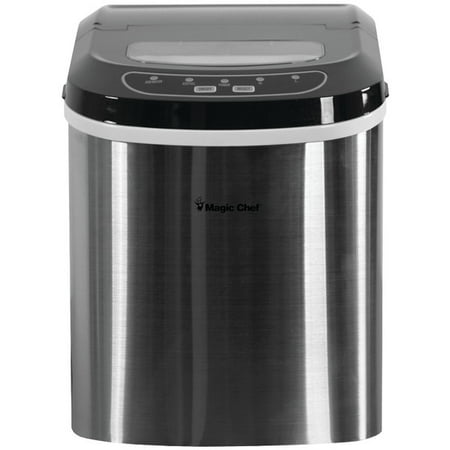 The Stainless Magic Chef Portable Countertop Ice Maker is a handy item to have in the kitchen. It can make up to 27 lbs worth per day. The Magic Chef ice maker provides a steady supply for daily use or when entertaining friends and family. With 1.5 lbs of storage space and a digital control panel, it can produce cubes in two sizes in as little as seven minutes. Compact and versatile, this portable ice maker is suitable indoors or on the patio table. It is available in a choice of assorted colors. The unit comes with indicator lights. It has a removable bucket with a scoop and an integrated water drain cap.
Magic Chef Portable Countertop Ice Maker, Stainless:
Makes ice in as little as 7 minutes
Magic Chef ice maker comes with 2 ice cube sizes
Yields up to 27 lbs per day
Easy-touch control panel with indicator lights
Removable ice basket with handy ice scoop
Portable ice maker has a convenient viewing window
Integrated water drain cap
Indicator lights for both ice and water levels
Available finish colors: Black, Red, Stainless Steel
Use for entertaining family and friends indoors or outdoors
reviews
Got the machine read the information and plugged it in added water and it went to work. Great product so far for the money. I am a satisfied customer.
So far I really like this icemaker.