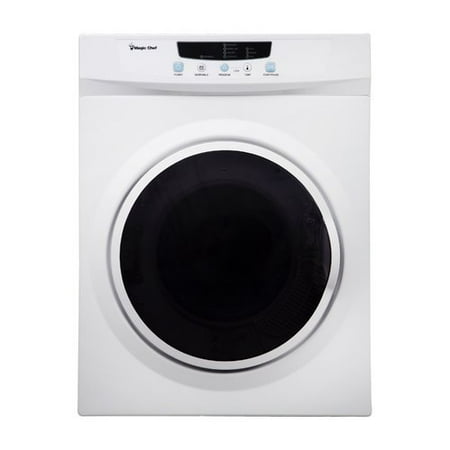 The Magic Chef 3.5 cubic foot Electric Dryer in White is just what you need when you don't have tons of space for a laundry setup. Its compact, space-saving design makes it perfect for apartments, dorms or even RVs. For added convenience, you can mount it on the wall, or place it on your countertop. It uses a standard 110-volt (120 VAC, 15 amp) outlet, eliminating the need for special wiring that is required with many other dryers. Its three temperature settings provide options for proper fabric care.
Magic Chef 3.5 cu ft Compact Dryer, White:
3.5 cu ft capacity allows you to dry up to 13 lbs of clothing
Stainless steel tub provides durability
See-through window lets you monitor clothes as they dry
3 drying temperatures offer better fabric care
Lint filter (air intake filter) is easy to access for cleaning
Anti-Wrinkle selection provides periodic tumbling at the end of a dryer cycle to help reduce wrinkling
Warnings:
California Proposition 65 Warning: WARNING: This product may contain chemicals known to the State of California to cause cancer andbirth defects or other reproductive harm.
reviews
I love the dryer its works great for me and my family.
I'm overall happy with dryer. Bigger than I expect which was a plus for me. Dries a good load in 45 minutes to an hour which I already expect so. No problem. The only concern is filter hard to put in place. Part that fits in place to attach filter not so sturdy so it's already seems that it might break. Have to be extra cautious. This is after 3 times removing and placing back in place. I'm concern about that. Also exhausted vent seems it should include more plastic venting. Or more clear Information. Bought a 3″ vent doesn't fit so I'm assuming a 4″ More details, recommendations would be helpful. Overall I'm so far satisfied.
looks good, nice size , arrived with a dent in the bottom left rear corner
The dryer was del. w/ a dent in the top left corner and the drivers did not even knock on the door (I live in a very small apartment i sit less than 50 ft from door) its a bit smaller than i thought and the lint filter is in the worst place and seem like it will break very easily due to poor design . Also the dryer turns it self off and then back on several times during a cycle overall time will tell if this was a good purchase
I'm having the same problem with the dryer shutting off and on during a cycle. And it only has about 3 hours of operating time. I'm calling on this tomorrow.