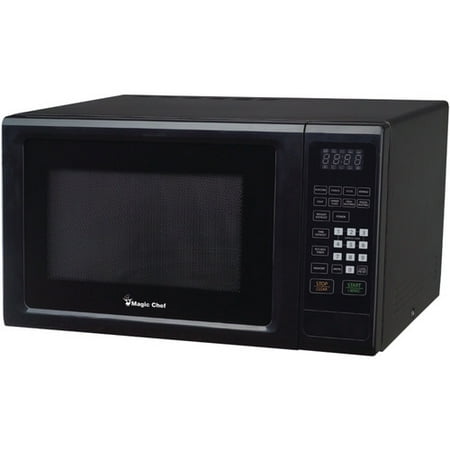 The Magic Chef 1.1 cu ft Microwave has a modern look that will complement almost any kitchen's decor. It is equipped with a variety of cooking, reheating and defrosting options. For example, this black microwave has eight auto cook options, one to six minute express cook buttons and auto defrost menus for weight and time. Ten power levels let users customize their cooking experience according to their needs. An "add 30 seconds" button lets users add an additional 30 seconds to the cook time. There are also several features built in for safety and convenience. This 1000W microwave has a child safety lock to keep children from opening it. For ease of cleaning, this item has a removable glass turntable. This makes cleaning faster and easier. Simply remove the turntable and wipe down the inside and the glass dish. This device is a good option for the home or office.
Magic Chef 1.1 cu ft Microwave, Black:
1000W Microwave has 10 power levels
8 auto cook menus
1-6 minute express cook buttons
Auto defrost menus for weight and time
Add 30 seconds button
Kitchen timer
Child safety lock
1,000W
1-year limited warranty
Dimensions: 16.7″L x 20.2″W x 12″H
Model# MCM1110B
Directions:
Fabric Care Instructions: Follow instructions provided on the tag or packaging.
reviews
This microwave working very good. I give 4 because door is too tight.
Now this was one of my better buys. I love it. built well and does the job with no problem
Easy use,same power as old one with a more compact size. Only thing is hard to see thru door or I would have give 5 star.
Very light. Had to put non skid pads on the bottom to keep it from moving Very noisy on start up but it tones down after about 5 seconds. Seems to work and heat fine.
I absolutely love this microwave. Magic Chef has a good solid reputation. I don't doubt that it will give me many years of service. I love the fact that is solid black so it blends well with my other kitchen appliances. There are just 2 drawbacks, it's louder than I expected and the push button to open the microwave is a little stiff though it seems to be getting better with use. The turntable glass is 12 inches wide making excellent use of the interior. It's great for warming or cooking. The price was outstanding since its very difficult to find a Magic Chef under $100. I would recommend this to a friend.
Once set up I found that the instructions are very easy to understand and the microwave works great. I would recommend this product.
6th microwave in 3 mos. I like this one. Drawbacks are the door button was very hard to push at 1st but got easier after abt a wk. Kitchen timer stays on display but microwave can not be used while timer is on and can stop it at any time. Quick buttons which is a plus. Very powerful.
I had microwave shipped to home, and it arrived a day earlier than expected! Bonus! I was able to take it out of the box, plug it in, and use it immediately. It works perfect for my needs. Highly recommend.
When I ran it for the first time it sounded extremely loud and figured that it is just a really noisy microwave. It worked for the first night. In the morning it wouldn't heat anything up. Took it back for refund.