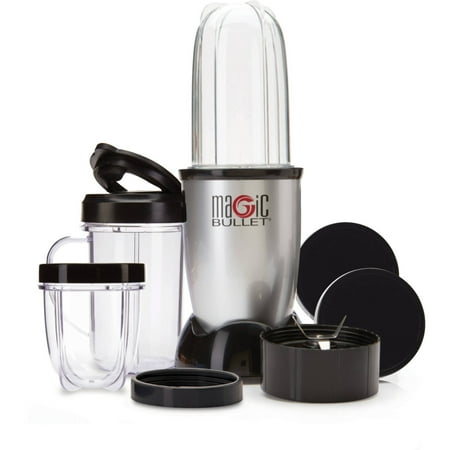 Prepare everything from shakes and smoothies to salads and spreads with the Magic Bullet 11-Piece Set. This versatile tool is made with a stainless steel cross blade and features a 250W high-torque power base for maximum productivity. It saves kitchen work time because it does almost any job in the kitchen in 10 seconds or less. The compact kitchen can grate, grind, blend, chop and mix meats, vegetables, fruit, frozen drinks and more. Its sleek design does not take up much counter space, for added convenience. It comes with a power base, a cross blade, two party mugs and comfort lip rings, three stay-fresh resealable lids and a tall cup with lip rings that is ideal for making smoothies. The Magic Bullet blender set also comes with a handy recipe book to help you discover all of the delicious meals, snacks and sides you can create with just a touch of a button.
Magic Bullet 11-Piece Set:
Make delicious party dips like salsa, pasta sauces, frosty milkshakes and more in just seconds
Grate, grind, blend, chop and mix with 1 machine
Occupies little space and can stay handy on your countertop for instant meals and snacks
250W high-torque power base
Stainless steel cross blade for chopping, grating and blending foods such as onions, cheeses, meats and frozen drinks
Tall cup with lip rings ideal for making smoothies
Magic Bullet Blender Set includes a 10 Second Recipe Book
Model# MBR-1101
Directions: 
Instructions: Household use only.
Reviews
Great product and I use it often. Very fast. Great for fruit smoothies.
I bought this because it is small, easy and quick to use. It is perfect for making smoothies. It is not good for chopping onions. The onion still had some big chunks and some turned to puree. This is a great quick option to puree fruit that is going to expire, then I freeze it (bananas, strawberries, etc.) in ice cube trays. Then when I want a smoothie, I just pop in some of the frozen fruit cubes. Easy!
It arrived earlier than expected and satisfied with the product. Great for making smoothies…
super economico y prepara las mejores batidas
This blender is the perfect self size.I have been trying out the new green smoothies and this is just fantastic.
I really enjoy making smoothies with this and it is great to take on the go when I am finished. Also it cleans really well
it works great for me. It cam grind spices, make juices, smoothies in less quantity. It is not meant for bulk quantities.
I just love my magic bullet it works great it's just what I imagine it would be…. I wish someone would of told me how great the magic bullet was sooner!!!
Great size and works great. Owned a Bela brand in which the motor burned out within a few months. This Magic Bullet is much better.
I have been interested in getting this Magic Bullet for a while and finally decided to get one. I am very impressed with what this little machine can do. I love Bullett Coffee and it mixes it very good. I am told that it grinds coffee beans very well but I have not tried that yet. This product is very good deal for the money especially compared to some of the other products of similar quality.
I bought this to make protein shakes at the office. I love it, it really does work great, crushes the ice and/or frozen fruit I put in it. I really should have bought the bigger unit though.
doesn't even crush ice, so you can't put frozen fruit in it to make a smoothie. in order for it to blend even soft fruit you have to continually take it off the base and shake it.