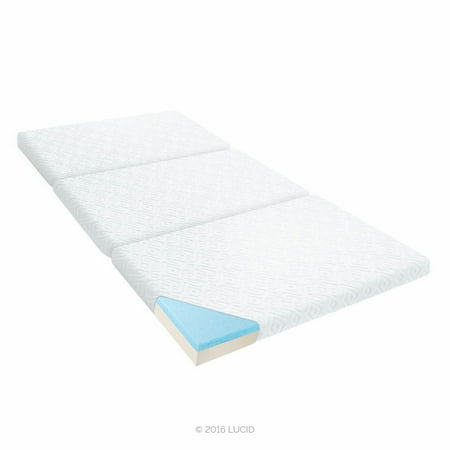 Give your guest the courtesy of a nice bed without having to store an extra one in your home. This mattress gives the best of convenience at a price that makes sense. The 3-inch foldable mattress features a comfort layer of premium memory foam and a high-density foam base, making it ideal for the grandchildren when they come for a sleepover. The tri-fold design makes it easy to transport and store under a bed or in a closet. This super lightweight mattress is great for traveling, camping, RVs, campers, tent beds or studios. This mattress is delivered in a duffle bag for shipping convenience. The mattress is not designed to be stored in the shipping bag after it has been decompressed.
Lucid 3″ Folding Memory Foam Floor Mattress – Twin Size
Easy to Store and Transport
3-Year Warranty
This warranty protects the mattress and cover against manufacturer's defects.
Safe for You and the Environment
The foam in this product is CertiPUR-US certified which means this product has been independently tested for materials used, physical performance, and environmental stewardship.
Careful construction guarantees no prohibited phthalates, no ozone depleters, no CFCs, no mercury, no lead or heavy metals, no formaldehyde, no PBDEs, and low emission (VOCs) for indoor air quality.
reviews
Great Folding mattress, much better than the spring mechanism, very convenient because of the folding in three, kept under my daughter's bed. I weight approximately 170lbs.
Very useful as extra sleeping for kids but not thick enough for adults. Also, white covering not ideal for something that belongs on the floor and cannot be washed. A little pricey for what it is. Should come with a removable, washable cover.
Works great comes in a tri fold, not one pc. seems to be made for fold out bed. It works very good.
This item was received in a v timely manner and it was just what I wanted. I would purchase again from this company
My 18 month old sleeps well on this. Bought it because I have to start out sleeping with him and it needed to be big enough. It is big enough but you definitely need to wait 48 hours before you lay on it because it will go flat. For bigger people this would be a great topper. We may travel with this as well.
I am more than happy with the size, the memory foam density and the storage of this extra mattress. i put it on top of my own bed, and also air beds for company. It has been good in my instance for 150 to 200 lb people, the advertisement is all correct and the price is worth it as it can be used for a topper or a floor mattress or just extra comfort where needed
This thing is absolutely amazing!!! I received this is in the mail hours before I left on a camping trip. I was so stoked to take this with me on my trip and really test it out. I love to camp but sleeping on the hard, cold ground in my tent isn't my favorite part. I was so comfortable all night I could have camped for weeks and been happy. I woke up feeling completely refreshed and free of back pain like usual. This is an awesome bed for traveling/camping/lounging, anything really. You won't regret it!
I received this product as a test product from the company, I have to be honest. This product will never replace my mattress. But then again, it's not meant to! It's meant to be a temporary bed and/or sleeping pad. This is a fantastic product to be used in situations where a bed just isn't available. Upon opening, there was the standard new memory foam smell. It wasn't overwhelming; it was just there as usual. I gave the mattress the full recommended 48 hours to expand after opening. The smell was gone within the first 24 hours, and it looked ready to use by then as well. The mattress itself is really three separate memory foam pads inside a single "sheet" that has a pocket for each mattress. There are zippers on each pocket to keep the pads inside the pockets. It is lightweight and easy to fold. I slept on it for two nights in a row to test it out for an upcoming camping trip. It works fantastic! I much prefer it to the camping pads that I would usually use. It takes up a little more space than my old camping pads did, but it is easy to compress it by setting things on it. It's also well worth the extra space. As a side note, my cats love to lay on it as well. They use this more than their cat bed! I would definitely recommend this product to others. Cons: It feels a little short, but I chalk this up to me usually sleeping on a Queen bed. It is true to Twin bed dimensions. It takes up more space than a standard camping pad. (Only really applicable in terms of packing up for camping.) Pros: The "sheet" around the pads is very well made. It is thick and durable. The mattress pads are very comfortable and lightweight. It far outclasses comparable portable/fold-able pads I've used. It's versatile in usage. This is a great product, and one that I will use over and over.
Easy to Store and TransportGive your guest the courtesy of a nice bed without having to store an extra one in your home. This mattress gives the best of convenience at a price that makes sense. The 3-...