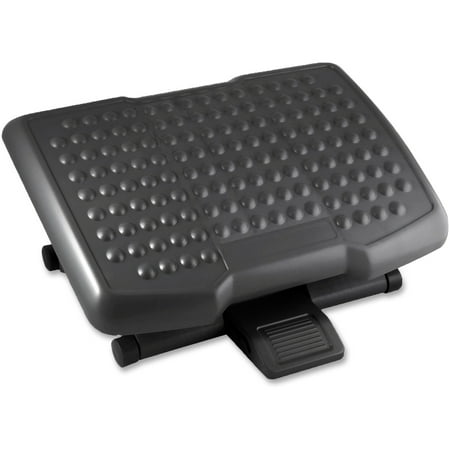 Sit back and relax after a long day or while you work with the Black Lorell Adjustable Height Footrest. It elevates your feet for personal comfort and to improve circulation. This ergonomic footrest adjusts to three levels for customizable comfort. Surface bumps help massage tired feet while they rest on the platform. This product makes it easy to elevate your legs while sitting by supports them at a comfortable height and tilt. It fits easily under a desk.
Lorell Adjustable Height Footrest, Black:
Adjusts in height for 3 levels for customizable comfort
Ergonomic design supports your legs at comfortable height and tilt
Surface bumps massage feet and improve circulation
Adjustable footrest has simple foot action
Adjusts tilt smoothly and quietly
Adjusts from 4 to 6.5″
Black
reviews
This footrest meets my needs and it's reasonably priced. Highly recommend.
This is a very functional foot rest. It is adjustable with rocker. Great durable feel. Best price in town!
I bought it as a foot rest and functions as expected.
Good quality, excellent price, and just what I wanted. This is for my office at work. I am ordering a second one for my office at home.
I returned another footrest I bought prior to this one because it simply didn't elevate my legs enough, even on the highest setting. While I do have this one set to the highest also, it's perfect! It swivels which I wasn't sure I'd like but I don't mind it at all. I don't think there's a way to lock it in place.
Adjustable height, rocking hinge and dimpled surface makes for a good foot rest. Satisfied customer.
The adjustable height option was great, however, the swiveling of the footrest was problematic! It can't be set in a stationary position, consequently my lower leg muscles were in constant use. Initially, it was a soothing rocking until bedtime. Then I experienced the worse legs cramps I ever had!!! I thought this could possibly be a coincidence and tried the footrest a second day. The cramps occurred again. I used the footrest a approximately 6 hours (2 movies). I have experienced cramps in my calf muscles due to exercise, but never in my shins and ankles from sitting and watching a movie! Something to consider when purchasing this product.