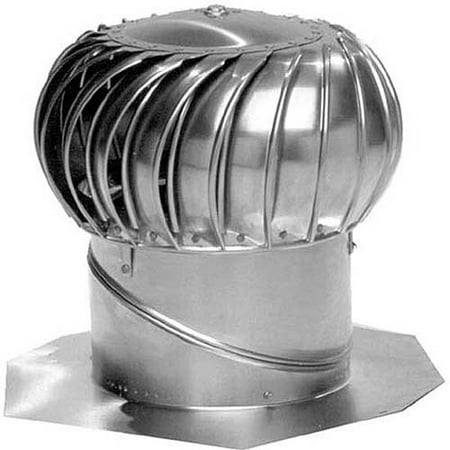 Upgrade your home ventilation system with the Lomanco BIB-12 MILL Whirlybird Ventilator. The ventilator features permanently lubricated upper and lower ball bearings to reduce maintenance and ensure a long life. With all aluminum constructions that is designed to resist rust, the roof turbine ventilator is ideal for residential use. The 21 air-foil curved vanes with rolled vane edges works to deflect water, and the large flashing makes installation easy. The wind turbine ventilator is tested to withstand winds up to 147 miles an hour.
Warnings
:
California Proposition 65 Warning: WARNING: This product contains chemicals known to the State of California to cause cancer and/or birth defects or other reproductive harm
reviews
Fast service, no problems and the product was as advertised.
This is a second time purchase of this product. Works great! Does not wear out like other brands.
The Quality of Product Far exceeds other Brands. I have them on the roof of my Arizona home. I needed one for the attic above the garage of my Michigan home. After checking out two other brands, I bought the better qkuality Lamanco brand again.
They arrived in a timely manner, in good condition. I have installed them and they work very well. It is a quality product with a lifetime guaranty. I recommend this BIB-12 MILL turbine ventilator, good price and if you buy two of them you get free delivery.
Excellent product. With a lifetime warrenty you can't go wrong. Lomanco is a Good company to deal with and MADE IN THE USA !
easy to install but make sure you get the roof pitch right.i didn't! had to redo.watch video on youtube.
I have used these Lomanco whirlybird turbines before. They work great and have long service. This order was three turbines and one of them was damaged. I was able to fix it and use it so I did not send it back. We were in the midst of the job when I opened the box with the damaged whirlybird so I had no choice but to try and make it work. Should have checked all three out upon delivery instead of just one.
12 inches mill aluminum turbine ventilator, interal brace, permanently lubricated upper & lower bearings, no maintenance, rust free construction, rigid spider type structure, vari pitch base adjus...