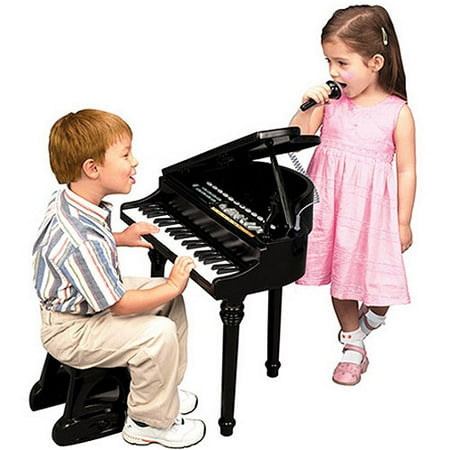 Live the dream of being a real-life concert pianist when you buy the Little Virtuoso Symphonic Grand Piano. This classic kids' grand piano features 37 white and black keys that strike to produce great music. A sleek and versatile electronic instrument, the piano allows your child to create melodious music from as many as eight instrument sounds, background music and rhythm. Including the sounds of a piano, flute, guitar, organ, trumpet, violin, mandolin and music box, the symphonic grand piano also has 15 pre-recorded demo songs. The beautiful black-finished symphonic grand piano includes a detachable microphone so that your little one can play and sing along. A record and playback feature enables your child to compose, play and record songs, while a built-in metronome feature enables setting the desired number of beats per minute to create different tunes. Let your child author his or her first masterpiece with this Littler Virtuoso kids' grand piano.
Little Virtuoso Dance Hall Piano:
37 keys
8 instrument choices
8 rhythm choices
8 background music choices
15 built-in demo songs
Record and playback features
Metronome feature
Detachable microphone
Kids' grand piano includes concert stool seat for comfortable operation
Requires 3 AA batteries (not included)
Assembly required
reviews
This is a Wonderful Little Piano! I did quite a bit of online research as well as in store foot work to find d a good little piano for our peanut! It was actually the reviews that made my final decision for me & I was not disappointed! My Granddaughter received this for a Christmas Present & I waited 7 months now to Review to make sure I had a good gauge. She loves it & so do Mom & Dad …, no negatives from them & I was persistent! Microphone is still intact & working just fine, as I saw some other customers did have a problem with this! The bench is tiny but is in proportion with the Piano & for us its perfect as my Granddaughter is on the petite side! I would definitely recommend this Wonderful Item …., but do note it is a piece that should b treated with respect to ensure longevity!! 5* from us!!
Good for 3-4 year olds, but not very sturdy. Size is good, but it's all light plastic, so be careful with younger kids.Sound is also good, hoping to last a few years.
What an adorable grand piano ! The sound is great and it records with a playback! I can't wait to give it as a gift!
I bought this for my 3 year old daughter and she loves playing the piano and especially singing on the microphone. It is a little loud at times, but she's not screaming for hours so it's ok. We like it!
Perfect for my 3 year old daughter, she love it and the microphone on the piano works well. I like that it have a volume key and record and different instruments sounds.
Our 2 yr old granddaughter loves her piano. It doesn't take up too much space and the sound is nice not brassy. She loves playing on it.
I purchased this piano as a Christmas gift for my 1yr old daughter. Due to the holiday season I suppose, I was unable to use the ship to store option, so I had it delivered. It took a little over a week before arrival. I was so excited to receive it because I had read all of the reviews which led to me choosing this piano vs others. This toy is simply beautiful! It was extremely easy to assemble. It literally took 1 minute. I like the fact it's battery operated and shuts itself off when not in use. As far as sound, the sound is impeccable. It sounds like a real piano, organ, flute, ect depending on which option you choose. My daughter received a keyboard from someone else, and the sound is not comparable. If you had your eyes closed you could tell the keyboard was a toy, but I would highly doubt you'd know the piano was a toy. I have no issue with durability. I have the piano positioned in the corner and it hasn't tipped over as other users have complained. The stool is a perfect hight for my little one but she prefers to stand. I had to remove the microphone because the little stand wasn't as stable though and my child kept pulling it and I didn't want it damaged. I have played with this more than my child and I absolutely love it and would recommend it.
The only thing that went wrong, was it was advertised on the website to be only 38 dollars if purchased on line, but it kept coming up at 48 dollars at the shopping cart location, the day that I ordered it. Can this be resolved? Otherwise it is a great gift and product. Tanya
Little Virtuoso Dance Hall Piano:37 keys 8 instrument choices 8 rhythm choices 8 background music choices 15 built-in demo songs Record and playback features Metronome feature Detachable microphone Ki...