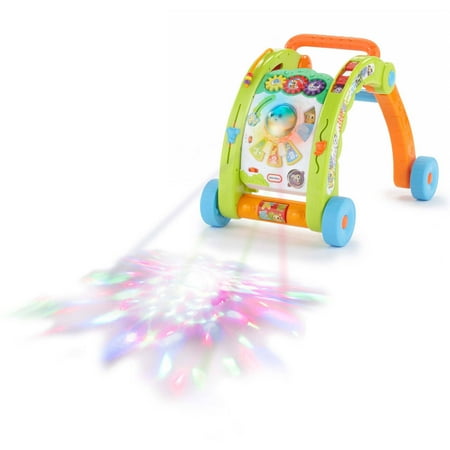 Help light the way to active play with the Light 'n Go series of toys, which includes the Little Tikes Activity Walker. It uses light to help inspire your baby to get moving. The 3-in-1 Activity Walker can function as a walker, a standing activity table and a sit and play activity center all in one. Its projected lights encourage baby to take his or her first steps as they grow with this interactive toy. Featuring over 70 activities, songs and sounds, the 3-in-1 Light 'n Go Activity Walker and activity table can provide hours of fun for years to come. This toy is ideal for keeping children engaged and learning. You can work alongside your kid while they play or take the opportunity to relax as they keep themselves entertained. This product comes with the required batteries and assembly is fast and easy so you can start using it quickly. The unit folds up to allow for space-efficient storage when play time is over.
Little Tikes Light 'n Go 3-in-1 Activity Walker:
Walker projects lights on the ground to encourage baby to take their first steps
Panel slides up to become activity table
Sit and play activity center folds flat for floor play and is also ideal for easy storage
70+ activities, songs and sounds
Activity panel features monkey slider, peekaboo lion, spinning toucan ball that makes fun animal sounds and noises, color beads, animal flipbook, jungle spinning drum, koala and parrot clickers and more
Requires 3 AA batteries (included)
Assembly required
Weighs 6.6 lbs
reviews
G'ma here…Luv Luv…multi activity, lights, music, motor learning, stable small footprint, only hitch is assembly if you are baffoon get help. Neg reviews all gripe assembly but 3-in-1 walker is amazing when assembled properly & functioning as should. My 7.5 month active & curious grandbaby first impressions are winner…if only can have one serious learner toy $30 well spent, this is it!
I accidentally installed the activity table upside down as the instructions didn't state which way to install it. They just said to ensure the curves align which they did! This prevents product from being uswd as a walker. Called little tikes and thry said this is not fixable, but they will replace it without a receipt as this was a gift. We just have to deface the product and send pictures. They wouldn't confirm, however, whether they would update instructions to be more clear. What a waste of resources and yet an extra product in the landfill. We are opting to keep ours as is.
I was so excited when my dad got this for my son to help him walk. I didn't notice the wheel had locked for days. He was pushing it outside his wheel has wear and tear I could not for the life of me figure out how to get it unlocked for days. So for two weeks he didn't use it until. I read other person's review. The table was up. The two tabs in the back squeeze them drop the table down. Thanks other reviewer.
My grandson needs a little help to start standing and walking, this is perfect!
My son loves playing with this and as he grew we wanted him to start learning to push it, but found out the wheel was locked. Later looked at reviews on here to find that the button tablet part of the walker needed to be all the way down for the wheel to unlock. Otherwise this is a great toy!
As I was putting it together it seemed easy enough. Then we had the issue with the front right wheel. You guys really need to put that issue in the instructions because I thought it was either my fault or a default in the walker. Luckily, I came here and started reading other reviews and found out it's a common issue.
Awesome toy, full of fun. Catches my son's attention occasionally. Not his favorite invention ever, but I like it.
My son is 16 months old and hasn't started walking on his own. For his first birthday, his grandma got him this toy. He really enjoys it until he uses it as a walker bc the front right wheel locks up. I read through reviews hoping for a fix, but no luck. I also called the call center number that can be found in the review and left a voicemail and have yet received a call back. Super frustrating
Roam, Sit and Play with the Little Tikes Light 'n Go 3-in-1 Activity Walker The Light 'n Go 3-in-1 Activity Walker converts from a standing activity center to a table or a walker that moves with your ...