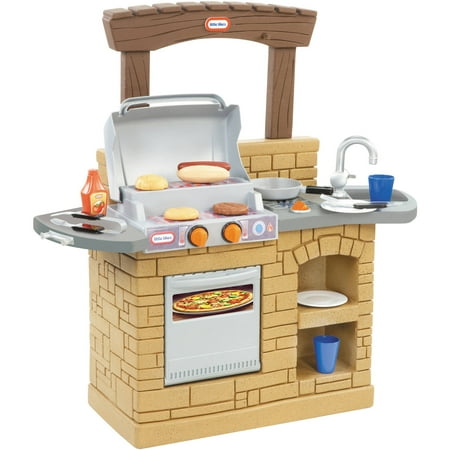 The Little Tikes Cook n' Play Outdoor BBQ Grill lets little ones pretend to grill up some fun just like mom and dad. It features a working oven and refrigerator doors, a dual-level grill, a molded-in sink and cook top along with molded-in pegs to hang kitchen utensils for realistic play. The sturdy plastic construction of this kids' BBQ grill ensures that children can enjoy this kitchen toy while it endures rigorous playtime for years to come. It also comes with plenty of counter space for food prep and the knobs make fun sounds to help entice your child's imagination. This Little Tikes grill is ideal for both indoor and outdoor use. It comes with instructions that help to make adult assembly of this toy a breeze as you follow them step by step. The Little Tikes Cook n' Play Outdoor BBQ Grill is the ideal toy to let your child's imagination run wild with the realistic play that mimics essential life skills. 
Little Tikes Cook n' Grow BBQ Grill:
Sturdy construction
Made of plastic
Working oven and fridge doors
Molded-in sink and cook top
Extended counter space and back counter for plenty of "prep" play
Dual-level grill, just like real ones
Molded-in pegs to hang kitchen utensils and pans
Clicking knobs on grill make fun sounds
Kitchen toy needs adult assembly
Kids' BBQ grill instructions included
Play grill dimensions: 29.25″W x 35.25″H x 12.13″D
Box dimensions: 24″L x 25″W x 11″H
reviews
Purchased this for my 2 year old son and he loves it. When I opened the box the oven door was missing but I called little tikes and they shipped one right away. The only con I have for this was that the top was hard to screw to the bottom piece. Other then that I would recommend!
I bought this to add to activities for my 2-3 yr old children in my home daycare.. They love it!!
My two year old son loves his grill and plays with it every day. Easy to assembly and good quality.
My son loves to play his grill for hour on in. He tells us I cook like Daddy!!! Love it!!!
Easy assembly. Great look, my grandson is going to love this grill. He loves to pretend and do things his parents do, this the right size and the accessories are great. He cooks for his Pappy & Nana all the time.
SANTA brought this for our 2 1/2 year old grandson. It fits great on our back porch along with a work bench and play house. He never wants to come inside!!! I highly recommend
I decided to get this for my son when I saw him using a table as a grill and some play doh as meat. It is tall enough for him and he loves to play with it.
The box says this is an "Outdoor BBQ Grill" but the directions inside say it is for "indoor use only." What?? Is it OK to use outside or will the decals be destroyed? The grill cover did not attach well at all. The hinge opening was too big for the grill to attach securely. It kept popping out. Not well constructed.