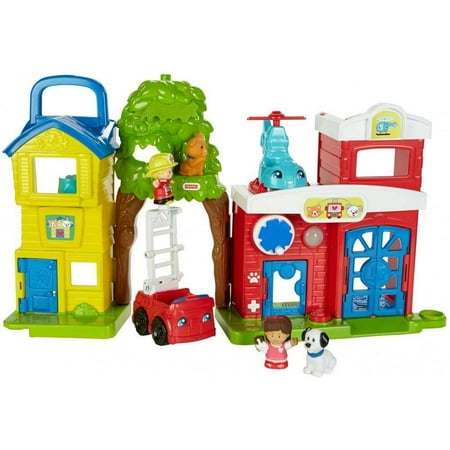 Toddlers become tiny heroes of their Little People community with this interactive pet rescue playset! When a kitty friend gets stuck in a tree, your toddler can press the Discovery Button to turn on the light at the firestation and send Firefighter Rob and his truck racing into action with songs and phrases. Need air support? Turn the crank to get the helicopter's propellers spinningtime to fly! When kitty is safely back on the ground, Mia can take her to the vet center to make sure she's OK before taking her back to the pet adoption center, where a puppy friend is waiting for his bath. With this super fun playset, toddlers see how animals depend on people to care for and assist their four-legged friends! Where development comes into play Sensory: Soft tree leaves, bright colors & lights, and fun sounds & phrases stimulate your toddler's developing senses. Curiosity & Wonder: As toddlers discover how to press the Discovery Button to send in the firetruck with all its fun sounds, they'll see how their actions can make fun things happena great intro to cause & effect! Emotions & Self-Expression: As kids rescue & care for the animals, they're beginning to learn what it feels like to take care of someone else.
Little People Animal Rescue:
Age Range: 1Y+
Includes Mia figure, Firefighter Rob figure, and 2 animal figures dog and cat
Press Discovery Button to activate light and fun songs & phrases
Press Discovery Button to send the fire truck into action!
Turn the crank to spin the helicopter propellers & activate sounds, songs, phrases, and the light!
Press down to give the animals a bath (Sorry, kitty!)
Light above firehouse really works!
reviews
The first time I gave the Little Rescue to my son, he discovered the fire truck and the red button, which he loves to push and hear all the songs and voices. Personally, I love the kitty song, so cute! The size of the characters is perfect for kids under 2 years old. Also, what I like is how easy it folds for an easy storage and once you fold it in half it fits anywhere. Although, my son is only 19 months he likes playing with the rescue set and loves to see how the helix spins. I know when gets a little bit older he will be even more interested in this set. I'm hoping he would be able to learn the songs and sing along.
I bought this for my daughters first birthday, she loves it! Plays with it every single day and we have bought almost all little people houses as she loves them so much!
This product is amazing, my 2 year old loves it! The product quality is very colorful and durable. It fell off of the table and it didn't break or show any signs of dents. I love that the characters are included and that they can have multiple purposes. As a parent I love this toy because it teaches my child how to be a community helper. My son is learning that firetrucks and helicopters are used around the community to do some pretty amazing things. It also teaches how to properly treat animals. The sounds/phrases that the toy uses are a great aid in explaining all of this to my child.
Our kids really enjoyed this toy. It's great that the figures actually stick to the cars, allowing the kids to play with them without fearing them losing the pieces. The only thing that would make it better was if there were noises to help keep our kid's interest. Cleanup and storage is a breeze, as the house folds into itself, keeping all the pieces neatly tucked inside. The handle makes it easy to haul it from place to place.
This is one of a few LP sets we have and both my boys at 5 and 2 like playing with the sets and animals. This set has lots of different options-helicopter, firetrucks, animals and buildings. The set folds up which is nice for storing away. It does make noises which my 2 year old enjoys activating. Overall, a great toy that keeps them both entertained.
My son is 17 months old and he loves the Little People products. He's been playing with this toy daily since it arrived, and he likes to carry around the helicopter and fire truck. We were impressed with the quality and creativity- we love that you can spin the helicopter blades and press the button on the base for sounds. I would definitely recommend this product for children around the same age.
My sons have now had a few weeks to play with this toy and they still love it! My sons range in age from almost 7 years old to 2 years old and all of them like to play with this toy. My older son is able to use it as a base for his other toys and action figures and my younger sons are able to use it to expand on their other Little People sets. A couple favorite features of the set is the fire engine driving out of the fire house with a push of a button and the dial used to spin the helicopter blades. As a parent, I like the fact that it is very durable. It has taken a few tumbles down the stairs and it still looks like new. I also like the fact that all the pieces are large enough that I don't have to worry about any chocking hazards. I also really appreciate that it folds into itself so it doesn't take up much room! There are so many different scenarios that can be played out with the Little People Animal Rescue play set.