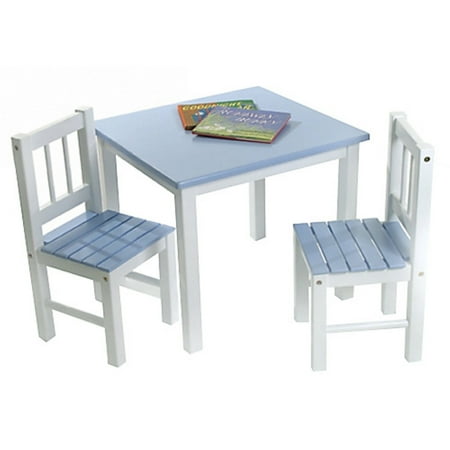 Designed for hours of fun, the Lipper Kids Small Blue and White Table and Chair Set gives your child his own special space to play and work on his arts and crafts. Sized for a child's world, this set is constructed of medium density-fiberboard (MDF) and finished with bright white legs, blue tabletop, and slatted blue seat. Your child will spend happy years reading, drawing, and playing on this sturdy and cheery nursery addition. The scratch-resistant surfaces are easily cleaned with gentle soap and water so your young ones are never exposed to harsh chemicals and cleaning odors.
Lipper Lipper uses the finest quality materials including stainless steel, bamboo, acacia wood, chrome- and powder-coated metals and other fine quality hard woods . Known for product functionality as well as beauty and quality craftsmanship, Lipper International combines quality, style, service, and price into every product and collection it offers.
reviews
Worth the money. Goes together quickly just don't tighten chair tops or they will crack !!!!
This is used as my son's kitchen table. He loves to eat at it!
Love this little table set! Fits perfect in my small living room!
I was looking for a table and chairs that my 3yr old daughter and 1 1/2 yr old son could use together. It had to be very sturdy because my daughter tends to be a little rough and not too big so my son could play too. This was perfect, they both love it! It's very sturdy and just the best size. Really easy to put together and seems like quality. Recommend to anyone looking for that perfect table and chairs!
Just finished assembling this table and chairs. It doesn't take a rocket scientist to figure assembly out but the entire set is cheaply made. Wood rails on the chairs started to split as the screws were tightened and as we speak one of the chairs is in the garage where I had to reglue the seat slats. 2 year old granddaughter seems to enjoy the table and one usable chair though
Very adorable. I would definitely recommend this set. Strong wood, easy to build, just like you seen on the picture. The process & shipping was quick.
My son loves his new table and chairs… I am excited to get him set up with crayons and paper, etc.
This is so much better than the plastic table and chairs. It is heavy duty and sturdy. Very pleased
The product is easy to assemble. My 3 and 4 years old sons completed the set by themselves. The color is just pretty.
Very cute produce but one of the chairs has overspray on the white part of the seat. Already had the table and other chair put together, so it was to much of a hassle to send back.