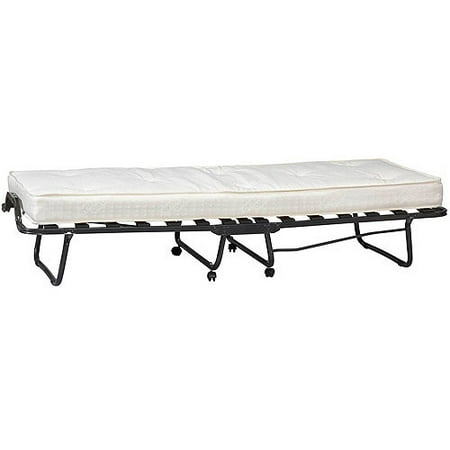 The Luxor Folding Bed With Memory Foam is simple and easy to use. The bed sets up in a few seconds, while the thick mattress provides your guests with ultra-comfortable support for a restful night's sleep. The bed folds down in seconds and is small and compact enough to store away in almost any closet. Use this comfy piece as an extra bed, guest bed, kid's bed, day bed or lounger.
Luxor Folding Bed With Memory Foam:
Includes steel frame and mattress
Casters for easy mobility
Sturdy metal tube frame with durable wood slat supports
Mattress is topped with a layer of memory foam
Open dimensions: 79″L x 31.5″W x 15.75″H
Closed dimensions: 31.5″W x 13.5″L x 35″H
Mattress dimensions: 31.50″ W x 74.8″ L x 15″ H
reviews
The bed is good. Just could not put it totally together as two screws were missing for those long connectors. Had to go out and buy some.
Strong flat bed, very nice for over night stay, Not wide but still very comfortable. Great for small rooms or living room stays. My son loves it and so do I., will recommended it to friends and family. Can't ask for a better price.
I've been sleeping on this bed for about 2 weeks and its been very comfortable. Only negative I can think of is that the bed makes some noise when I flip around or move. Other then that, I would definitely recommend.
I got this bed to use for my 8 year old granddaughter when she visits. It was easy to assemble. She loves it! She sleeps well on it. When it's not being used its easy to fold up and roll into the corner. I am very pleased with this purchase.
We got two beds for our grandchildren and expected them to be the same. One is much firmer than the other. This didn't create a problem because the firmer one was better for one teen. We were satisfied overall.
The bed was an excellent purchase. It was very easy to assemble, generous length for a taller person to use, and very nice mattress. Nice and sturdy too. I would recommend this product. Transaction was smooth, fast delivery.
Easy to put together. Great support but mattress is a bit too firm. May need a mattress topper.
It didn't take long for the thin 5/16″ slats to break. First one the first week, then the 2nd one the second week. If you sit down on the bed to fast, watch out. I have never seen such poor design. Why didn't they use a metal suspension that would last for years instead of cheap (plywood) slats that are so thin and flexible that they break. Since I can't return this thing, I can only warn you about it. Also the person sleeping on the bed is not that heavy.