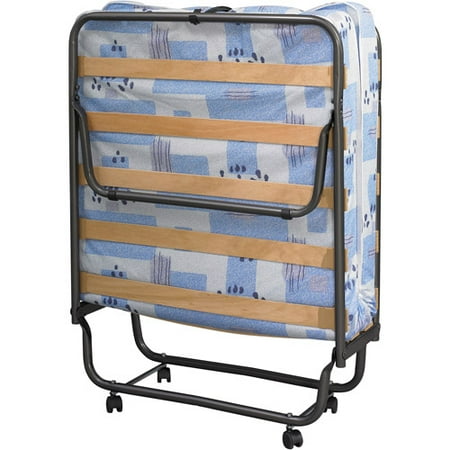 The Linon Home Decor Products Portable Folding Bed is simple and easy to use. The bed sets up in mere seconds. It folds down just as quickly into a small unit that is compact enough to store away in almost any closet. Use the multi colored Roma bed as an extra bed, guest bed, kid's bed, day bed or lounger in any room in your home. It features casters for easy mobility and is made with high quality construction for long lasting use. The Linon Home Décor Products Portable Folding Bed includes the steel frame and mattress. Accommodate your guests with ease with this simple to use and easy to put away bed. The plush mattress will be sure to provide your guests with a comfortable and good night's sleep.
Linon Home Decor Products Roma Folding Bed, Multi-Color:
Portable bed weight limit 250 lbs
Item includes the steel frame and mattress
Multi color fabric
Casters for easy mobility
Sturdy metal tube frame with durable wood slat supports
Easy to store
Folding bed
Easy to store
Includes mattress
Dimensions: 74.80″L x 31.50″W x 14.96″H
6-month limited warranty
Model# 358ROMA-01-AS-U
reviews
Ok for emergencies but it would not work for long term use….I was able to put it together myself with ease and very easy to move around.
The bed arrived and the packaging was not in the best shape so I was worried that the bed had sustained some damage but it was just fine. It's light and easy to move and stores away in my shed with no problems. I lay down on it to test the feel and it seems fine. I will,probably get a mattress topper for,it anyway, but I'm pleased with it.
It's a great bed for guests, esp the kids when they come sirens the night. Very comfortable and easy to roll out of the closet for set-up.
Easy to set up and move around. The specs said it was a twin size mattress, not so, definitely narrower. The twin sheets don't fit. Other than that, it's going to work great for when the grandkids come to visit.
Although this bed needs additional padding to be really comfortable,, I found it to be an excellent value …and small enough to store away easily when not in use. Other slat bottom beds were much more expensive and I didn't want a saggy spring model.
Flip the large instruction sheet over to the "finished" photo and just follow that once you have opened the bed and removed the parts you need to attach. Simple if you look at finished photo as a reference. You will only need a wrench to tighten the 4 cannisters, the 4 nuts and the two steel rods that all go together. Then air out the mattress for 24-48 hours.
I bought this bed so my grandchildren would have a bed to sleep on when they visit instead of an air mattress. They love it and so do I.
This bed is nice for company and the price is great. Easy to set up and the slats are much better than the beds with metal for mattress support.
Looks nice and it is easy to store. However slats made of inferior laminate and split in center after second use by adult (135#). Now bed is useless as unable to find slats. Left messages at Linon Home Décor and never received a reply. Willing to pay for slats but unable to find.