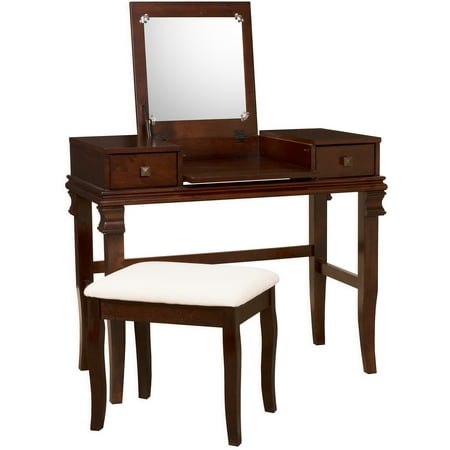 Add elegant function to a room with the Angela Linon Vanity Set. This item includes a coordinating bench that has a plush upholstered top for comfort. It's a beautiful choice for anywhere you want to provide a convenient spot for writing, grooming and more. The traditional style pairs easily with just about any decor. Enjoy ample storage space for cosmetics, hair accessories and other items in the generous dual drawers. Each features accent hardware to provide easy access to contents. A flip-top mirror makes it convenient to apply makeup and perform other daily rituals. Solid wood and MDF materials lend durability and stability. This vanity set with mirror requires some simple assembly. Linon Angela Vanity Set:
Traditional style
Flip-top mirror
2 drawers provide hidden storage
Plush upholstered bench
Material: MDF and solid wooden vanity set
Some assembly required
Vanity: 36″W x 18″D x 30″H
Bench: 18″W x 14.5″D x 18″H
6-month limited warranty
Available in various colors
reviews
Packaged great, good instructions, Comfortable bench seat, nice fabric, easy to assemble, no tools required, Looks great.
Easy to build but very sturdy! Great storage space. Only dislike so far is that the hole electrical cords is too small for large plugs like those on dryer/straightener.
easy assembly; very attractive unit; very usable
This is a heavy, sturdy vanity, yet relatively easy to assemble. One note about the drawer knobs – when attaching drawer knobs to drawers, be sure to turn the screw and hold the knob stable. If you turn the knob, it will scrape the finish on the wood at the point it becomes tight. It was a bit of a surprise to receive a kit designed to anchor the vanity to a wall. It is probably a good idea if small children are in the home but perhaps not needed in every household. When I purchased this item, there were 15 reviews, all five stars. I'm adding my five stars to the tally.
This is a beautiful, solidly-built piece of furniture. My granddaughter absolutely loves it. It arrived on time and sincerely outdid my expectations. Mirror up, she does her hair and gets cute. Mirror down and she uses it as a desk for her computer and homework. And at its price, it was a steal! Thank you Hayneedle for the 2 for 1 piece of furniture.
Oh wow..found your site and really enjoyed all the products you offer and at reasonable prices! I love my vanity..had one years ago but cannot compare! I put it together on my own..little trouble with directions but figured it out eventually! Its beautiful and elegant..perfect for my bedroom and my make up! Thankyou!
The packaging came with holes punched through the box and multiple tears as well. When we opened the box the visible part of the vanity was broken. AND the broken part was no where near the holes in the packaging! Who knows what the condition was at that point. Needless to say we didn't continue opening or viewing the vanity. Of the parts we could see, we did like the finish and appearance of the wood. The stool was a tan/brown tweed-like fabric not the white portrayed online. I wish we could have seen the entire product. We are considering reordering.