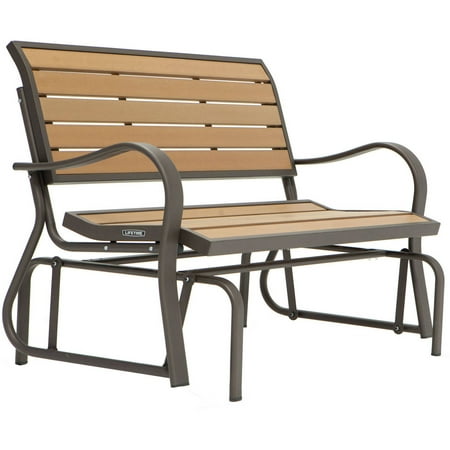 Creating the perfect place to enjoy a nice afternoon, the Lifetime Glider Bench is the ideal addition to your yard. Constructed of weather-resistant polystyrene simulated wood, the bench is designed to be the perfect size to easily fit on a porch or patio. The Lifetime Glider Bench is UV-protected and will not fade, crack, chip or peel. Unlike wooden benches, polystyrene will not splinter or warp, and never needs to be painted or varnished. The ball bearings create a smooth, quiet glide, and the 48-inch steel frame has a powder-coated, rust-resistant finish to ensure that your Glider Bench will last for years.
Lifetime Wood Alternative Glider Bench:
44″ weather-resistant polystyrene simulated wood bench
48″ metallic brown powder-coated steel frame
Ball bearings create a smooth, quiet glide
Will not splinter or warp
2-year limited warranty
reviews
Looks just like the picture. A bit hard to put together but not to bad. Very comfortable and very solidly made
The product seems well made and easy to put together. It is comfortable to sit on.
I love this glider, it's actually my second one, I left the first one on the porch when I sold my last house. I would have given it 5 stars but they never sent the part they promised that was damaged during shipment.
Handsome glider chair that's functional and fun. Seems well built. Not too hard to assemble. Instructions say 2 people should be used, taking an hour. I am a 68 year-old man. I did it alone in about 2 hours.
My in-laws just built an extravagant sun room on the back of their home, and these glider benches are what they chose for seating. I got to sit in them last night when we went for dinner, and they were wonderful. The gliding motion was very smooth and relaxing and they were very comfortable to sit in. I would highly recommend!
I purchased this Glider for my wife about a month ago. It had some damage due to shipping. This probably caused a problem with attaching the back of the seat to one of the arms and also attaching the glider to the right side of the base platform. I was not a happy camper at that point and called the company and explained what had happened when I tried to assemble it. I received an email from a very nice lady in customer service that went out of her way to resolve the problem. She offered me some options and in the end I elected to receive a new glider as one of the options. I am glad I did. When it arrived I looked it over and it appeared to be in good condition. It was easy to assemble and only took around 30 minutes to complete. It's nice looking and seems to be well built and my wife loves it! Not much else I can say about the glider. I gave it 5 stars even though I had some problems because it's worthy of the rating and the company's customer service is definitely worthy of the same! I would buy it again. The Lifetime Company is definitely a class act company that stands behind their product.
This is a very heavy duty glider bench and can withstand being out in the elements. It glides easily and smoothly, and is just what our front porch needed.
I bought a couple of these for my Mom, they are great for our family get-togethers! They are very relaxing to sit on and comfortable to use.
we purchased this glider last year. It is well made but very uncomfortable to sit in. If you want comfortable this is not a good choice.
Simulated Wood - Polystyrene and Steel 34 H x 48 L x 28 D Durable Weather-Resistant Polystyrene