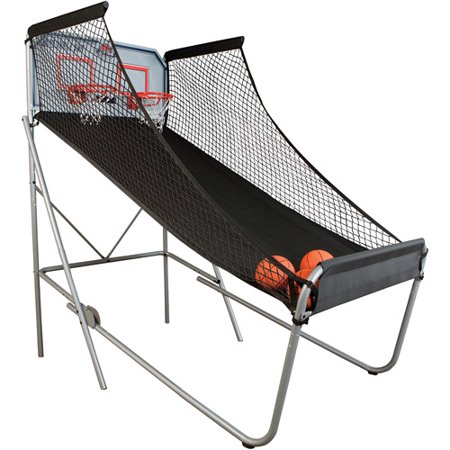 Test your skills on a heavy-duty Double Shot Arcade Basketball System from Lifetime Products. Constructed of heavy-duty 18 gauge powder-coated steel, the Lifetime Double Shot is durable, rust-resistant, and will not crack, chip or peel. The nylon ramp has adjustable straps and buckles and unlike many systems, it will not fray or sag over time. The convenient ramp design folds up and secures in place with locking pins, providing safe out-of-the-way storage. With infrared optical scoring and fun sound effects, the Double Shot is sure to create a fun arcade atmosphere, providing your family with years of excitement and fun.
Lifetime Double Shot Arcade Basketball System, 90056:
48″ x 22″ medium density fiberboard backboard
Two 12″ steel rims with infrared optical scoring sensors
Fold-up design for easy storage
Includes seven 7″ basketballs
reviews
This basketball double shot has provided hours upon hours of fun entertainment for our family and guests. It folds up nicely and does not take up too much room. This product is very durable and the lifetime quality is unmatched, highly recommend this product.
We got this for our play room and we love it. Even out two year old tries and has fun!
Bought this over 25 years ago for our kids when they were little. Still have it and all the grandkid's love it now. The little ones even push a chair up to it and play or they even climb in to throw the balls up. Our older kids still play each other when they are over. We have had to replace different parts and have always gotten great help. Has been a great investment. Have totally gotten our money's worth out of it. Would buy it again!
This was a Christmas present for our 7-year old in 2015 and the whole family loves it. Whenever we have a party (kids or adults) there is always a line up to try and beat the high score!
Same thing happened to ours, but I called LIFETIME directly and they send a replaced the electronic scoring unit for free. We received it within a couple days. No problem with the new unit. We bought Double Shot for one of our boy's sleepover birthday party — it cost us less than parties we'd had at the swimming pool, laser tag, etc — and it was a huge hit!!! It has seen many birthdays, sleepovers, and team events and it always gets used. Three years later it still seems almost new. GREAT VALUE and QUALITY.
Bought this for a wedding rehearsal dinner and it was a huge hit! Far more complicated to put together then some reviews indicate but so worth it. After wedding gifted it to a family with a special needs child who loved it. So worth the effort and the cost.
I got this for a church Fiesta. It was a hit with the kids. I didn't have any problems with the score board like other reviews and it made quite a bit of money in our fund raiser. It does however take several hours to put together, but it wasn't hard to put together just time consuming.
Solidly built piece of equipment.  Unfortunately, the sensors that count the shots continue to decrease their effectiveness as time goes on.  After just two weeks, only ~65% of shots are counted.  The bottom line is, this ruins the game!  Another negative is 4 of the 7 balls do not hold air.