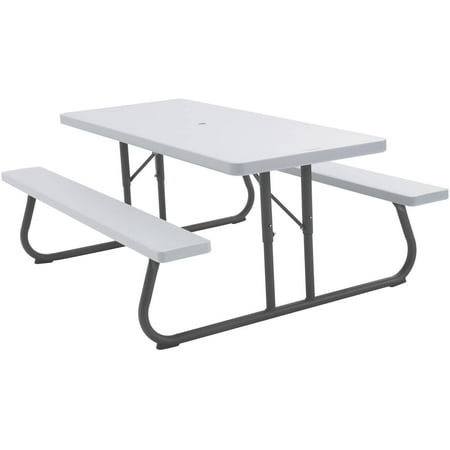 Bring style and functionality to your outdoors with the Lifetime 6′ Picnic Table. It gives you instant access to additional seating space. It features a strong powder-coated steel frame with a high-density polyethylene top. The folding picnic table is UV-, weather-, stain- and rust-resistant. It will not fade, crack, chip or peel. In addition, it's stronger than wood and easy to maintain. It can accommodate up to eight people making it suitable for family barbecues, parties and other social gatherings. When not in use, it folds flat for convenient storing. The Lifetime 6′ Picnic Table comes with a cut-out umbrella hole and cap allowing you to accessorize and improve its functionality as needed.
Lifetime 6′ Picnic Table, White Granite:
72″ x 30″ high-density polyethylene tabletop is stain resistant, easy to clean and folds flat for storage
Comes unassembled, in white granite with a gray 1-5/8″ round folding frame and includes an umbrella hole and cap
Will not fade, crack, chip or peel
2-year limited warranty
Powder coated steel frame
Seats up to 8 people
Rust-, UV- and weather-resistant
Stronger than wood
Table top color: white granite
Ideal for barbecues, parties and more
reviews
Great idea to have for extra company. Works great and then u can store away too…
I BOUGHT THIS TABLE FOR OUR CUL- DE-SAC A YEAR AGO AND SO FAR DOING GREAT.NO WARPING STAYS OUTSIDE GETTING READY TO BUY A SECOND ONE.
We have had our folding picnic table for a few years and love it. We have a 5th wheel trailer and take the table with us all the time. Would be lost without it.
We have two of these. Kids love them. Mom loves them. dad loves them. Can be used as a table (too obvious?) a ramp or a bed base when partially collapsed. Just need a bigger car to make it more portable.
We have purchased 15 of these tables for our business … they are very sturdy we started with 10 tables 3 years ago. we have added 5 more to another area since then
My parents have had a table just like this for about 10 or 12 years, and it is still in perfect condition! It was perfect for our picnics and family parties outside in the summer.
Table was fairly easy to assemble. It took two of us about 30 minutes. It's very easy to fold and unfold. It's very lightweight and easy to move and store. Description says it can seat 8 people, but we maxed out at 6 adults.
Just picked up picnic table after waiting an extra 4 days for it to arrive from Walmart.com It arrived with the top of the table having several dents in it. It wasn't a shipping problem as the box had been taped and the styrofoam not in good shape. It had to be sent out from manufacturing this way. Perhaps someone returned it previously because it was damaged and manufacturing went ahead without checking it and sent it to us. It was not easy to pick up and haul and then to find out we can't use it. Very, very, disappointed.