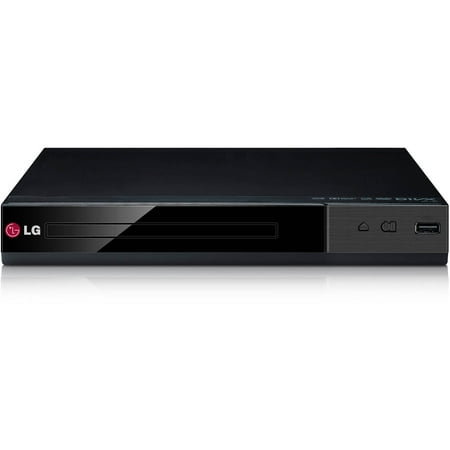 The LG DVD Player with USB Direct Recording (DP132) makes it easy to watch DVDs, play CDs through your TV and play media from your USB device. It can also record from an audio CD directly to a USB drive. This DivX DVD player plays back many styles of disc, including DVD-ROM/DVD+/-R/RW and CD-R/RW. 
LG DVD Player with USB Direct Recording (DP132):
Media DVD player
Plays back DVD-ROM/DVD+/-R/RW and CD-R/RW
USB Direct Recording (Audio CD Recording to USB)
DivX playback
USB 2.0 port for media playback
reviews
Can't beat the value. Works great and for under $30 that's amazing! Need the remote to operate since the unit itself only has an eject button. All other buttons are on the remote. After repeated use, it's still going strong.
Ive had this DVD for almost 2 year's and Ive never had problem with it, its the only DVD player I haven't had to replace after a year I just wish I knew its potential aha.
I purchased for the price. It shows dvds very well. The only problem is there ate no volume controls on the box. You have to adjust tv volume.
Got this for the Sunday school class at our church! Love it!
I only hooked this up less than 24 hours a go but I already love it! VERY easy hook up and VERY simple to use! You have to use the remote for everything, there are no buttons on the player itself but that's ok. I like my technology to be a SIMPLE as possible. When I hit "Stop" to do something that will just take minutes the player automatically shuts off but all I have to do is hit the "Power" button & it's back to where I left off. There are a few negative reviews so I'll follow up with another review in a few months.
I bought this as a gift for a friend. She has told me it works well, but I haven't seen it yet. So, my review is biased. I thought it was a great deal, a great price. So, I suggest you buy it. It really was a great price and (biased) it works well. No complaints.
No problem setting it up. Plays all my DvD's . Records Also . Instructions was very easy to understand.
I got this for my bedroom so I can do workout cd's Its small witch is great for my small space. The price was great as well!
Bought this specifically because it says it will play burned CDs & DVDs. Tried to play a burned DVD and it comes up with 'Video not supported'. It's an MP4 file! What a piece of junk!
Technical InformationNumber of Discs: 1Media Formats: DVD+RW, DVD-RW, CD-RWFeatures: Parental Control, Screen Saver, Auto Power OffVideoVideo Signal Format: PAL, NTSCVideo Formats: DVD Video, DivX, MP...
LG DP132 1 Disc s DVD Player Dolby TrueHD, Dolby Digital DVD RW, DVD RW, CD RW PAL, NTSC DVD Video, DivX, MPEG 1, MPEG 2, MPEG 4, PS, TS, VOB USB Parental Control, Screen Saver, Auto Power Off