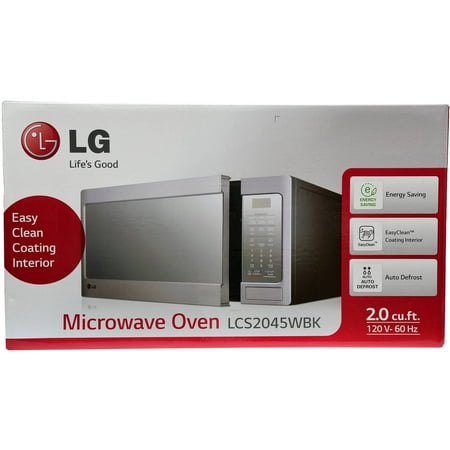 Prepare delicious meals and snacks with this LG 2.0 cu. ft. Countertop Microwave Oven. It is an ideal addition to your kitchen. This model features 1100 watts of power and sensor controls to cook or warm with one touch. This LG microwave oven with EasyClean makes preparing and reheating your favorite foods, snacks and beverages easier. The built-in digital clock and timer ensure that food will not be under- or over-cooked. This large capacity 1100W microwave oven is ideal for family-sized portions and it provides rapid reheating and fast cooking. The ECO-ON function also enables you to save energy by turning off the display, and the express defrost provides fast thawing of meat and other frozen food.
LG 2.0 cu ft Countertop Microwave Oven with EasyClean:
2.0 cu ft capacity
LG microwave oven with EasyClean technology
Sensor Touch: cook or warm variety of foods with 1 touch
Express defrost
EZ-ON: touch this pad to cook for 30 seconds up to 3 minutes
1100W microwave oven includes a clock
Melt/soften
ECO-ON: saves energy by turning off the display
Push door
Dimensions: 23-7/8″W x 13-9/16″D x 19-13/16″H
Weight: 37.5 lbs
Model# LCS2045WBK
reviews
I love the size and the easy clean interior. It is easy to use and our kids can use it too.
It does what it's supposed to but I have two gripes. This thing is a fingerprint magnet to say the least. Second gripe: I'm not sure what the deal is, if someone in the household is hitting the wrong button, what the deal is but I constantly have to set the clock on the thing. That said, it heats food and looks good when it's fingerprint free(not often).
Have hade for a couple of weeks and completely satisfied so far. It's huge in side, ok much larger inside than previous microwave owned.
I purchased this to replace a much more expensive model from Samsung (that's a whole other story but long story short shave yourself and run far away from ANYTHING Samsung makes). The LG is working great so far. Other reviews said you can't see into the cabinet while it's cooking and this is true. The light is very dim and the key pad is hard to see at times, but this product works. I'm only giving it 4 stars because I've only had it a month. I want to trust LG so I'm giving them time. But so far so good.
Works great and has potential for huge items. Just too big for small kitchens. Make sure you don't over load your counter space with this one.
Works extremely well and is a really nice stainless steel addition to my kitchen. The price was very reasonable, too. I had shopped online and this price was a pleasant surprise.
Great microwave! You can heat your food inside that as your about to open the door have your hot dog or marshmallow ready for the flames that shoot out. What a piece of junk!!! Going back to the store!