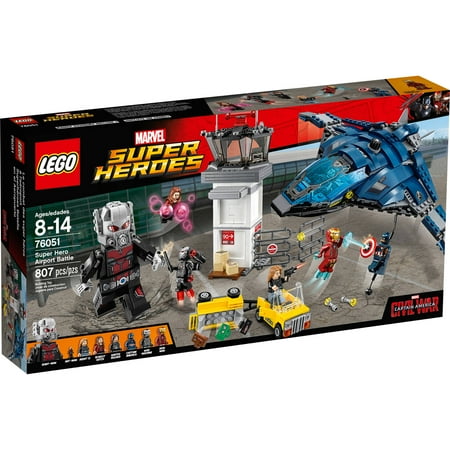 Join forces with Capta, Scarlet Witch, Ant-Man and Agent 13 to help Winter Soldier escape in the awesome Quinjet. Dodge War Machine's stud shooter. Enter the air traffic control tower through a tiny hole with Ant-Man to explode the boxes in front of the tower. Push the lever in the second-floor office to explode the walls. Explode the luggage cart to send suitcases flying, then transform Ant-Man into Giant Man to take on Iron Man. Flip out the wings of the Quinjet to take off and deploy the hidden stud shooters. Drop the rope for Capta and fly away!
LEGO Super Heroes Super Hero Airport Battle 76051:
Includes 6 minifigures: Capta, Winter Soldier, Scarlet Witch, Iron Man, War Machine and Agent 13, plus an Ant-Man microfigure and a buildable Giant Man figure
Air traffic control tower features a visual control room with a swivel chair, second-floor office with computer screen element and opening cupboards and exploding wall function, first-floor room with opening side door and exploding boxes function activated by pushing the Ant-Man microfigure through a tiny hole in the wall, plus an attached fence
Turn the switch on the Quinjet to reveal the hidden stud shooters underneath
The Quinjet also features an opening dual cockpit, foldout wings for flight and landing modes and an opening rear hatch with a rope for a minifigure to grab onto
Activate the explode function on the rear trailer of the luggage cart to send 3 suitcase elements flying
Pick up a minifigure with the Giant Man figure which features posable head, arms and legs
Weapons include Winter So ldier's gun and War Machine's shoulder-mounted stud shooter and baton
Accessory elements include Capta's shield, Scarlet Witch's power studs and Iron Man's power element
Also includes a comic book
Air traffic control tower measures over 10″ (27cm) high, 9″ (23cm) wide and 3″ (8cm) deep
Quinjet measures over 3″ (9cm) high 7″, (20cm) long, 12″ (31cm) wide in flight mode, and 7″ (19cm) wide in landing mode
Luggage cart measures over 1″ (4cm) high, 6″ (16cm) long and 1″(3cm) wide
Giant Man figure stands over 5″ (14cm) tall
reviews
We had a nice time building this set. Not overly complicated but it's great to have a Giant Man figure in the set
It Was Very Fun To Build It Kept Me Entertained I Would Recommend It To All Of Yall
We bought one of these for each of our sons, they both love it! The giant ant man is really neat. It also came with two tiny ant man characters, which is great because Rey are easy to lose being so tiny! Overall we are very happy with it.
Got this for my son for xmas. He loved it. I liked the giant antman and the mini version of antman. It's so cute. Definitely recommend this Lego if they like superheros!
Christmas gifts for my son. Arrived on time as predicted in great condition. Soon loves it. Spent 2 days following directions building.
Another quality lego set that is both challenging yet doable for my grandson. He was thrilled when he got this for Christmas.
Disappointments: where that there were only two team Iron man characters and also the quinjet was very small compared to the Age of Ultron quinjet set and they should have included a regular size ant man the Luggage cart had really no purpose at all Agent 13 bla bla not very good. The good stuff: The tower had very good playability and giant ant man is awesome captain america same as Age of Ultron scarlet witch updated with a new skirt piece.
I purchased this for my grandson and he loves it! Lots of extra characters for him to play with too. It's a little pricey but I was able to get it on sale.
I love the gi-ANT man figure you build for this set. I put this together with my 5 year old son and we both had a blast.
Wow! Civil War is a great movie! How great are the sets? Let's see what Super Hero Airport Battle has to offer… Minifigures: Ant-Man – Not a real minifigure, but a detailed and realistic example of what Ant-Man can do! I love the printing on this figure. Scarlet Witch – Finally! Scarlet Witch's hairpiece is accurate to her movie counterpart. Some love it, but I am not a fan of the red skirt included. Is that from the movie? Also, it extends quite low down. Captain America – Meh. Same version as the AOU one, which is inaccurate to Civil War. And when is Lego making a new dark red shield? Winter Soldier – A few things: I do not like the reuse of Chris Pratt's head for him. The angry face works, but I don't recall Bucky smiling such a happy smile in the movie. As this minifigure is included in Black Panther Pursuit, it's not so attractive here. Iron Man – Great minifigure, love the shooting repulsor, but rest of the figure is just decent. War Machine – AWESOME! But… why does he use Cyborg's head? Really, Lego? And I don't like the amount of printing on his mask- it's too much. Apart from that, he's fabulous Agent 13 – Nothing much here. Inaccurate hairpiece, and rest of figure is rather bland. Set: Luggage cart: Small, not in the movie, launching mechanism works well but is kinda odd. I like the luggage Easter Eggs but too many stickers. Airport Tower: Transparent brown windscreens are fabulous, exploding wall is okay, box explosion is so-so. The box easter eggs are cool but simply add stickers as well. Quinjet: Nooooooooo!!! The Quinjet is way too tiny to be a proper Lego Quinjet! Side by side seating in the cockpit is missing, the stud shooters take up the whole midpart, the transparent sticker on the windscreen is bad, tiny cargo bay… the list goes on and on! Hoping for a better one for Avengers 3: Infinity War… Giant-Man: The saving grace! He's just FANTASTIC! Only a few problems: The pins and holes are exposed on his legs, the hands cant move like normal minifigures, and the back is ugly. Still, pretty cool. All in all: Build: 10/20 Play experience: 8/20 Minifigures: 17/20 Price: 15/20 Collectibility: 14/20 TOTAL: 64/20
Who will win this super-heroic airport battle? Stage an epic battle at the airport, featuring an air traffic control tower with 2 different explode functions and a luggage cart with an explode-functio...
Who will win this super-heroic airport battle? Join forces with Captain America, Scarlet Witch, Ant-Man and Agent 13 to help Winter Soldier escape in the awesome Quinjet. Dodge War Machine's stud shoo...