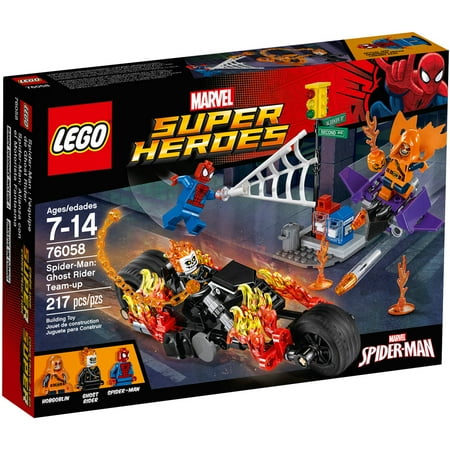 Stage a street battle scene as Spider-Man and Ghost Rider join forces against Hobgoblin. Dodge the Goblin Glider's missiles and flaming pumpkin bomb, and use Ghost Rider's fire chain to catch the evil demon. Knock Hobgoblin off his Goblin Glider or the top of the traffic light with Spider-Man's Super Jumper.
LEGO Super Heroes Spider-Man: Ghost Rider Team-Up:
Includes 3 minifigures: Spider-Man, Hobgoblin and Ghost Rider
Features a Ghost Rider Bike, Goblin Glider and traffic light model
Ghost Rider Bike features turning wheels, fire elements and a saddle
Goblin Glider has 2 flick missiles
Traffic light model includes traffic lights, 2 translucent flames, 2 newspaper boxes with 4 newspaper elements inside, and a trash can with trash elements
Place the Goblin Glider on top of the traffic lights, and activate Spider-Man's Super Jumper power to reach the Hobgoblin
Weapons include Ghost Rider's fire chain and Hobgoblin's flaming pumpkin bomb
Accessory elements include Spider-Man's web blast and Super Jumper
Also includes a comic book
Ghost Rider Bike measures over 6″L x 1″W x 1″H
Goblin Glider measures under 1″ high, over 1″ long and 3″ wide
Traffic light model measures over 2″W x 1″D x 5″H
reviews
I was pretty much drawn to this set because of the awesome looking Ghost Rider and his even more awesome looking motorcycle!! This motorcycle does not upset but it is a bit fragile. Ghost Rider is so awesome and cool plus his fire chain is very solid and fierce looking. My only tiny complain is that ghost riders fire is glued onto his head as scenes where water falls on his head and the fire is extinguished could be funny but are now non-existant. Overall this set is excellent and extremely cool. Buy it!!
My son loves superheros and has many of the lego sets and loves playing with them!
One of my favourite sets ever. Hobgoblin's glider is satisfyingly chunky, and although Ghost Rider's bike feels a bit weedy in parts, it's a surprisingly big chopper-style bike. The minifigures are some of the best though, particularly Ghost Rider. Absolutely worth the money.
The ghost rider bike is awesome and the minifig is just fabulous. For the price you get 3 great minifigs, so great value.
I really wanted this set for the Hobgoblin figure, which is undoubtedly nice to have, but Ghost Rider is the standout here. The minifig and the bike are top drawer. The translucent chain was a nice touch as well. Both characters and their vehicles were popular with the kids and earned a lot of play time. The traffic light/newspaper boxes adds something to our growing Lego city. Bonus!
Pretty cool to build with my son. The motorcycle is cool. Plus it came with bad guys that look cool.
I've always liked Ghost Rider, and was excited to add him to my lego collection. His bike was a little underwhelming, pretty standard lego design, with added flames. The minifigure is cool and detailed though. Hobgoblin too. Great additions to your mini figure collection. My favorite part is the street lamp/sign with the newspaper machines. It's small, but detailed. It's a really neat set piece to display them around. Overall it's a fun, easy addition to the collection.
My son loves every Levi set he gets. This one is no exception.
Swing Into Action with the LEGO Super Heroes Spider-Man No bad guy will get away when you have the LEGO Spider-Man: Ghost Rider Team-Up on your side. With the street scene build, you, Spider-Man &...
Drive the Ghost Rider Bike in at high speed to help Spider-Man battle Hobgoblin on his Goblin Glider with flick missiles. Includes traffic light model and 3 minifigures. 217 pieces. Ages 7 to 14.