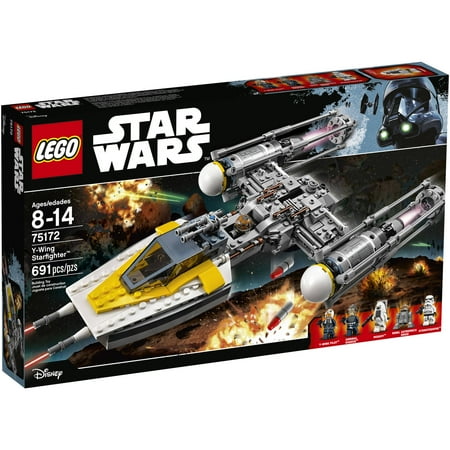 Expand your Rebel fleet with the iconic Y-Wing Starfighter. The unmistakable workhorse of the Rebel Alliance has been faithfully reproduced with LEGO bricks and features many play starters, including retractable landing gear, an opening minifigure cockpit, rotating guns, dual spring-loaded shooters and gearwheel-operated bomb-drop function. This great model also comes with a weapons loader with turning crane and extra ammo for even more immersive play. This set includes four minifigures and a droid figure.
LEGO Star Wars Y-Wing Starfighter 75172:
Age range: 8 to 14 years
Includes 4 minifigures: a Y-Wing Pilot, Admiral Raddus, Moroff and a Stormtrooper, plus a Rebel Astromech droid figure
Features a Y-Wing Starfighter and a weapons loader
Y-wing features retracting landing gear, an opening minifigure cockpit, rotating guns, 2 spring-loaded shooters and bomb-drop function
Weapons loader features a movable crane and detachable ammo
Weapons include 4 bombs, 2 blaster pistols, a blaster and Moroff's backpack loaded with elements that can assemble to create his personal blaster
Operate the crane and lift the ammo into position
Turn the gearwheel to release the bombs
Y-Wing Starfighter measures over 2″ (7 cm) high, 16″ (41 cm) long and 7″ (20 cm) wide
Weapons loader measures over 3″ (8 cm) high, 6″ (17 cm) long and 2″ (6 cm) wide
reviews
simple build but the bombs are flawless and has great detail
All in all, this was a fun set to build. Having not owned a lego set in the last 15 years or so, I decided to pick this set up as an introductory set before building the Saturn V set. Having been away from Lego for so long, I'm impressed with some of the smaller features I've never experienced including the white hook type pieces that hold the side of the cockpit together. Pros: Easy enough build for a return to Lego building. Very solid build. I feel like I could drop it and it wouldn't fall apart easily. Like all of the minifigs, including the R2 unit. Also the service vehicle was a nice addition. Cons: My biggest complaint is the use of white half cylinder pieces that get covered with grey stickers. As the stickers don't cover the entire piece, there's a very noticeable break in the coloring. Would've been better if they used the grey pieces instead.
I love the Star Wars sets! It's a lot bigger than I expected. The time I put down is a rough estimate. I really want the Marvel's Helocarrier! It would really put​ my skills to the test.
Although the Y-Wing appears in the much more recent Rogue One movie, this ship is well known to fans who can remember the very beginning back in the 1970's. I have not owned any previous versions, but am convinced that Lego did an excellent job in the design of the Rebel starfighter. Four minifigs and a droid are included. The pilot is more generic, but has very nice prints. There is also Admiral Raddus, who is exclusive to this set, and plays a key role in Rogue One. Then, there is Moroff, who had very brief screen time, but is a nice Star Wars alien for your collection. He resembles an intergalactic Yeti, and has a backpack minibuild. A stormtrooper is also included, which is nice, because we could all use some of these guys. The droid is also exclusive, and makes nice use of a transparent piece with printing. The ship itself is very sturdy, even the engines which use the technic axles to give it a similar look from the movie. There are some play features such as launching missiles as well as a bomb bay which can open up to release the minibuild bombs. The turret over the cockpit can swivel, which is necessary to open the windshield piece. There are a lot of nice details, which give it a more realistic appearance. Some stickers are used, but I hardly think Lego went overboard with these. The small landing gears on the bottom are retractable. A support vehicle is also included, and it holds some of the weaponry. I can certainly recommend this to kids who want a fun playable ship just as easily as it will appeal to older fans who have grown up with the original trilogy. Use it as a display model or play with it–either way you cannot go wrong.
Lego Star Wars has been part of my childhood since day 1 and it's no surprise that LEGO brought back one of my favorite ships from the Star Wars universe the Y-wing. While I loved building the Y-wing though I had to dismantle the ship once to fix some minor details the biggest headache I'm facing right now is the building of the wings for the Y-wing I mean I got the instructions down to a science but when I put the engine to the back it doesn't click! If anyone can tell me the right procedure on how to do it please tell me I'd really appreciate it.