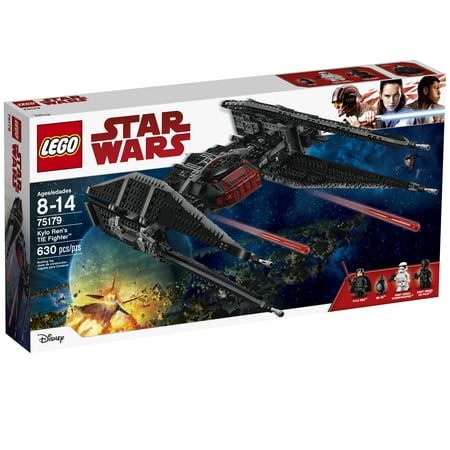 Create your own LEGO Star Wars: Episode VIII battle adventures with Kylo Rens TIE Fighter. This model features large wings, red exhaust detailing, an opening minifigure cockpit and trigger-activated spring-loaded shooters. The set also includes 3 minifigures and a BB-9E figure.
Includes 3 minifigures: Kylo Ren, a First Order TIE Pilot and a First Order Stormtrooper, plus a BB-9E figure.
Features an opening minifigure cockpit, large wings, red exhaust detailing and 2 trigger-activated spring-loaded shooters.
First Order TIE Pilots helmet features new-for-September-2017 red-stripe decoration.
Weapons include Kylos Lightsaber, a blaster and a blaster pistol.
Push the triggers on top to fire the spring-loaded shooters.
Measures over 4 (12cm) high, 16 (41cm) long and 9 (23cm) wide.
reviews
At first, I wasn't sure how much I would enjoy this set. After buying it anyways and building it, my mind is thoroughly changed. It is a very unique and striking ship. The build and set: True, the build is somewhat repetitive, but it is such an interesting build that it doesn't feel that way. Some cool and surprising techniques are used, especially for attaching the wings, and it made the build very enjoyable. And this is a solid set. It almost feels overbuilt, which is a good thing. It doesn't feel flimsy at all; everything is very well secured to make sure that it will not fall apart. Once completed, the set is quite imposing. Much larger than I thought, which is a good thing, and it has a nice weight too. Very swoosh-able!! And the detailing is just right. It just looks plain awesome. As a side note, lego has been doing a great job of building solid sets recently. Especially with these The Last Jedi sets, they seem so well designed and built, and I really appreciate that. I can enjoy playing with them and nothing is going to fall off or apart. Minifigs: Kylo Ren is great. His new outfit looks good, and the lightsaber is really cool. Stormtrooper. Can't have too many of these guys. BB-9e is cool too. Always nice to have a cool droid. TIE pilot is a home run! This is one of the coolest looking figs in awhile, and the printing is just great! Complaint: Only real complaint is that there is no controls in the cockpit. A viewscreen or joystick would have been really nice. But not really a big deal, you can always add that in yourself. Overall, this is a great set. It definitely merits a place in your collection.
This thing looks amazing once completed and I like the new prints on the new Kylo Ren minifig. This set looks like a TIE Inceptor but more sleek and cooler. I like the addition of the TIE Special Forces Pilot, as evident by the red stripes on the helmet, and I personally swap out Kylo Ren with him sometimes. Overall a cool set, but the only nitpick I have is the price, but it could be worse.
First of all, this is a very cool looking ship. I'm a huge Star Wars fan and build sets with my elementary school-aged daughters all the time. Even though they gravitate toward the Friends and Disney Princess lines, I know I have a cool Star Wars model when they ooh and aah over it. And they did! My biggest issue with this purchase is a small but irritating detail–where is Kylo Ren's helmet?! It might seem insignificant but I purchase these models for the mini figures as much as the ships themselves. And yes, if I had looked at the box more clearly I would have seen it (or not seen it, I suppose). But, I have not liked the previous Kylo Ren kits enough to purchase them, so I was excited to add him to my growing line up of Sith Lords. But the helmet is such a key piece! Maybe he doesn't wear it in the upcoming movie, but it seemed, honestly, really cheap to not include it. And in fact, had I noticed it, probably wouldn't have bought it. Seems a shame to be disappointed by something that I feel should have been a no-brainer to include. This has also happened with Sabine Wren, where her awesome Mandolorian helmet is in one set, and not the other. Seems like a cheap move. All that said, again, the ship is amazing, we had fun building it as always, I'd just like LEGO to be a little more conscious of this sort of thing. I was disappointed.
Kylo Ren's new Tie Fighter the "Silencer" is a really cool set. It's very large stance yet overall light weight makes this a great item for play with kids. It's also a great set for collectors to display.
Finished set looks good but the build is fairly repetitive and straightforward. Once finished, the set itself doesn't 'do' much with limited amount of moving parts or sections. Minifigures are great though and it does look pretty cool. Would suit a younger or relatively new builder looking to move up from the £20 -£30 level sets.