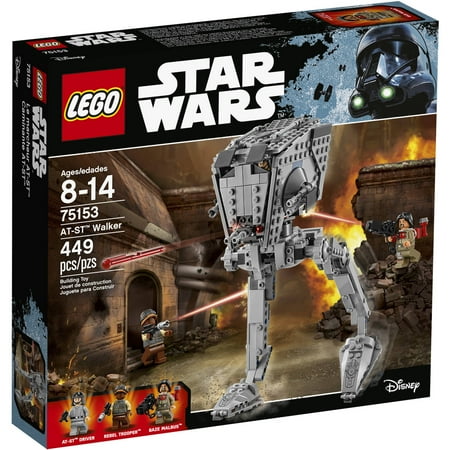 Join the hunt for rebels aboard the LEGO Star Wars AT-ST Walker 75153. The finished product of this building set features posable legs, wheel-activated turning top section, dual spring-loaded shooters and elevating guns at the front. The cockpit and top hatch of this LEGO walker opens up to reveal a detailed interior suitable for LEGO minifigures. This set includes three minifigures and LEGO weapons suitable for minifigure use. The set features 449 pieces, and allows you to recreate scenes from certain Star Wars movies and can be used with other LEGO building sets for all kinds of displays. It's designed for children between 8 and 14, but enthusiasts of all ages can enjoy building and creating with the LEGO Star Wars AT-ST Walker 75153.
LEGO Star Wars AT-ST Walker:
Age range: 8 to 14 years
LEGO Star Wars walker set includes three minifigures: an AT-ST Driver, Baze Malbus with his heavy blaster and a Rebel Trooper
Features posable legs, wheel-activated turning top section, opening cockpit and top hatch, detailed minifigure interior, dual spring-loaded shooters and elevating front guns
Weapons include a blaster pistol, blaster rifle and Baze's heavy blaster
Accessory elements include Baze's backpack and the Rebel Trooper's helmet
Recreate fantastic scenes from the blockbuster movie, Star Wars: Rogue One
The perfect addition to any LEGO Star Wars collection
This set offers an age-appropriate building experience for ages 8-14
Measure 6″L x 5″W x 9″H
449 pieces
reviews
As a Star Wars fan I could not imagine starting a Lego set or collection as something else than a Star Wars one. So my first choice came to be that 75153 AT-ST. Overall I was satisfied with the build process and the fun in the making. I'm looking forward to try some other sets from the Star Wars collection. The only thing that bugs me is the applying of stickers on the pieces. It may result in having a clumsy side-effect. Other than that. I did like the whole thing 🙂
Nice set. Glad that it came with the bomb/thermal detonater. Kind of wish that the cab or whatever part it was stayed in place better. Now that I have seen Rogue One I am glad that it came with Baze Malbus. Pretty nice set.
I was initially worried initially about the balance and durability as co workers come past and play with the unit but it has survived 2 weeks rather well and looks really impressive
There is a great tradition in Lego Star Wars of excellent design and engineering, and this set is no exception. It is hard to believe that all that structure sits upon those thin long legs and yet it is stable AND posable. The only compromise is that the legs have just one point of articulation. It would have been nice to be able to move the feet. I bought this set to go with my Ewok Village. The best thing about Rogue One is the Lego sets… and especially because they are such great updated designs of vehicles that also star in the canonical series. My recommendations below are the best of the recent sets that I have built so far. Each has amazing engineering, especially the Y-Wing. And they all look great.
Very fun to build! It took me about an hour to build. Great pieces, great characters. The price was a little high but it was worth it!
I mean don't get me wrong it was a great set to build but come on we didn't even see this in Rogue One. Here are the pros and cons. Pros Great improvement over the last AT-ST Only way to get Baze Malbus Updated Driver Cons Only 3 minifigs for that price! The Price is outrageous We didn't even see this in Rogue One I think a Shoretrooper would have been great in this set. I do not recommend this
First of all, the minifigures are great. And the AT-ST itself looks superb once built. However there are a couple of fairly major flaws. – the legs aren't posable. I suppose this is because it's already top-heavy, but a little movement would have been nice. – the model is not only top-heavy but front-heavy. Although the legs are stiff, the hip joints are not, which combined with the front weight means that the slightest little tap causes it to topple over. Admittedly this makes it realistic to the Star Wars univers but makes for a poor display piece. I've had to use some blue-tack to stop the thing from crashing over every time someone walks near the table. Overall not a terrible purchase but could have been better.