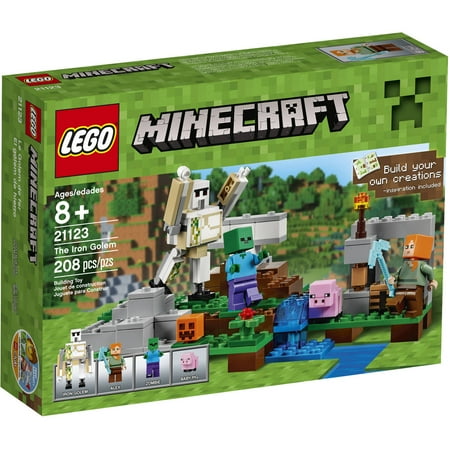 The sun is heading for the horizon and hostile mobs will soon be roaming the Minecraft landscape. You'll need to protect yourself and your baby pig! Mine the iron ore with your diamond pickaxe, smelt iron ingots in the furnace and craft iron blocks using the crafting table. Then use the pumpkin head to create the iron golem, and spring a surprise attack on the zombie!
LEGO Minecraft The Iron Golem, 21123:
Piece count: 208
Includes 2 minifigures: Alex and a zombie, plus an iron golem and a baby pig
Launch a surprise attack on the zombie with the secret iron golem pop-up function
Mine iron ore with your diamond pickaxe, smelt it in the furnace and use the crafting table to create iron blocks
Stack the blocks and add the pumpkin head to create the iron golem
Accessory elements include a buildable torch and pumpkin
Tool elements includes Alex's pickaxe
Set your imagination free, rebuild the set for more LEGO Minecraft creations
Includes more than 200 LEGO bricks
Measures over 3″ (8 cm) high, 7″ (19 cm) wide and 5″ (15 cm) deep
reviews
My (everything is)awesome(!) girlfriend got me this for Valentine's Day and we had an amazing and fun time building it. It's not too difficult and not too easy, plus the interactiveness of the Iron Golam and platform makes it more fun to play. Definitely worth the price.
Bought for Xmas 2016, and he loved it!!!
Grandson loves anything Minecraft and recently has gotten into the hang of Lego's. He loves it!
this set pleased me very much, it included every step on how to build the iron golem, im happy the there was no stickers,also the Minecraft. The building blocks of a developing mind, at the end of the booklet, and im also glad this set didnt include steve but instead it included alex (my favorite caracter from the minecraft franchise) but heres what i was upset with, this set included a pumkin and torch, putting both in a crafting table creates a jack-o-lantern i wish that was added in the set, also this set needed coal ore or a wood item from the game because how else are you supposed to burn the iron ore, and im also upset that alex has a dimond picaxe in almost every set. But overaoll this set is pretty good!
Excellent item to purchase. My grandson loves putting legos together.
The lego set was very entertaining for my 8 year old he loved it and it was easy for him to build it.
My daughter was excited to receive this for a gift and has already added it to her mine craft Lego city
It's too small for the price.