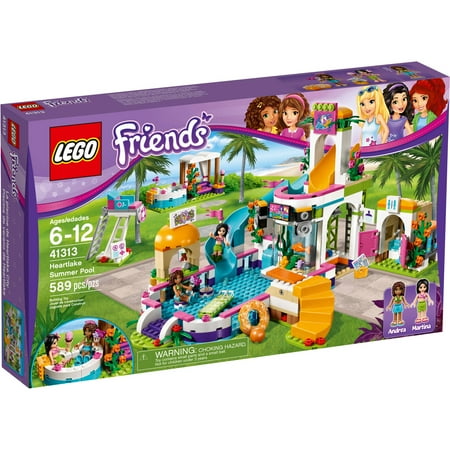 The LEGO Friends Heartlake Summer Pool is the place to be when the sun is shining, with a long slide into the water, springing diving board and a swim-up bar for a refreshing drink. Theres an outdoor shower behind the aquarium as well as a block with restroom, lifeguard stand, and a hot tub with day bed for a truly relaxing experience. Includes two mini-doll figures.
Includes Andrea and Martina mini-doll figures.
Features a swimming pool, hot tub and day bed area, restroom and a lifeguard stand
Swimming pool features a wavy slide, springing diving board, rubber ring, air mattress, aquarium, shower, TV screen, two speakers, fountain, a swim-up bar and steps down to the hot tub area.
Restroom features opening swing doors, toilet, sink and an opening locker.
Accessory elements include a ball, glasses, cherries, pineapple, bill, newspaper, basket and an ice cream.
Help Andrea spring off the diving board into the pool!
Have fun on the slide over and over again, then swim up to the bar for a juice.
Find a quiet spot in the relaxing hot tub and day bed area. This set offers an age-appropriate build and play experience for ages 5-12.
Combine with the 41312 Heartlake Sports Center for the ultimate leisure experience.
Summer Pool with swim-up bar measures over 7 (18cm) high, 9 (24cm) wide and 9 (23cm) deep.
Hot tub and day bed area measures over 2 (7cm) high, 4 (12cm) wide and 1 (4cm) deep.
Toilet block measures over 3 (9cm) high, 2 (6cm) wide and 1 (4cm) deep.
Lifeguard stand measures over 2 (7cm) high, 1 (3cm) wide and 1 (3cm) deep.
reviews
I usually buy the Friend sets for the unique parts, this was no acceptation. I built it in under 45 minutes and I found that it was a cute little set. One thing that would have been nice is more seating, but in the grand scheme of things, that is NOT a deal breaker.
I was so happy to see a new pool set, because I loved the pool with Livi's house, But the other heart lake pool set had already been retired, and I was looking for more of a modern pool theme. When I saw this set I was thrilled It has so much small beautiful detail, and such a cool clean modern look. I also love all of the smaller sets that come with it, like the small hot tub, lifeguard stand, juice bar and locker/bathroom. The one thing I really would have liked is some more seating although this is a pool set and there is seating in the sun bed/cabana It only fits two people, I would have liked a few tables and maybe even a window for food I do really love this set and I do think it is a nice pool, I also wanted to see some sun chairs I did feel like something was missing in this set but did really like it.
After playing with the superstar's house and her small pool I wanted something bigger. I was so excited to see this set. There are many features and things about it that surprised me and surpassed my expectations. I love that it comes with some less common pieces such as the new type of slides, the orange flowers, and watermelon! It's highly functional for play because it has a well thought out layout. There are many ways to add to it and make it bigger if desired. The cute fish tank in the center is adorable and makes the set! I love the extras. The hot tub is adorable and the friends fit well inside it. The bathroom is the cutest lego bathroom I've ever seen. The smoothie bar is small but functional, and the lifeguard post makes it a set with so many satisfying components. I had just built Stephane's house and I was a little disappointed. I love the girl's houses but Oliva's is by far the best. However, the pool set has be back to being happy about heartlake city! Thank you Lego!
This set was so much fun to build. My 10 year old watched me build this set while she was building another Lego set of her own. Love the Lego friends sets. Fun to play with as well.
The Heartlake City Pool is the hottest spot to spend a long summer day in the sun. Put on your swim shorts in the double-door changing room and rinse off in the shower before you head to the big blue ...