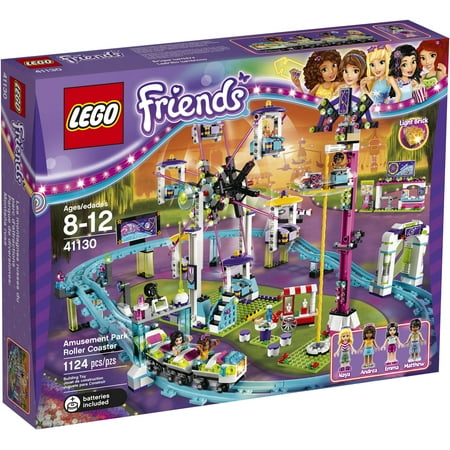 Push the LEGO Friends Amusement Park Roller Coaster around the track, sit a mini-doll in the front carriage to activate the light brick, and activate the cool functions as you go! Turn the Ferris wheel with its swinging gondolas, then push the car to the top of the drop tower and release to watch it go spinning round. This set is full of detailed functions and accessories for a day at the iconic Amusement Park. Includes 4 mini-doll figures.
LEGO LEGO Friends Amusement Park Roller Coaster, 41130:
Includes 4 mini-dolls: Emma, Andrea, Matthew and Naya in summer outfits
Features a roller coaster, Ferris wheel, drop tower, entrance booth and a dining area
The push-along roller coaster features 4 carriages (each sitting a mini-doll), functioning light brick, entrance area with opening safety barrier, control panel with levers, camera and a long track with various obstacles along the ride
The rotating Ferris wheel features steps up to 6 hanging gondolas (each seating a mini-doll)
The drop tower features 2 cars with opening safety bars, exciting spinning function as it drops and a camera
Entrance booth features a rotating turnstile and a ticket office where you can buy photos from the rides
Dining area includes a popcorn cart with turning wheels, 2 tables, 4 stalls and an Amusement Park information stand with a map
Amusement Park accessory elements include 2 tickets, coin, bill, 2 photographs and a map
Food accessory elements include 2 boxes of popcorn, 2 w atermelon slices, apple, hot dog with bun, water bottle and a soda bottle
Beauty accessory elements include 2 pairs of sunglasses and a hair bow
Sit a mini-doll in the front carriage to turn on the light brick and watch all the cool features you activate on your roller coaster ride
Push the car to the top of the drop tower and smile for the camera as you spin to the ground
Gently turn the Ferris wheel and enjoy the amazing view from the top
Grab a delicious box of popcorn, hot dogor slice of watermelon from the dining area
This set offers an age-appropriate building experience for ages 8-12
Roller coaster train with 4 carriages measures over 1″ (3cm) high, 6″ (17cm) long and 1″ (3cm) wide
Roller coaster track measures 27″ (71cm) long
Ferris wheel measures over 12″ (31cm) high, 11″ (29cm) wide and 4″ (12cm) deep
Drop tower measures over 12″ (33cm) high, 4″ (12cm) wide and 2″ (6cm) deep
Entrance booth measures over 2″ (7cm) high, 4″ (11cm) wide and 1″ ( 3cm) deep
Popcorn cart measures over 1″ (5cm) high, 1″ (5cm) long and under 1″ (2cm) wide
Combine with the 41127 Amusement Park Arcade, 41128 Amusement Park Space Ride and 41129 Amusement Park Hot Dog Van to create the Heartlake Amusement Park
reviews
I bought this two weeks ago, what a fantastic choice!! It was just challenging enough that it was entertaining without frustrating me (I use Lego as a therapy tool). There are so many features to it that, with a few other sets I have, I now have a fairly good sized fair/midway!! Love it and highly recommend it. I bought it when it went on sale but I have to admit I think it would have been worth it at full price!!
Package is intact. Do not anticipate any problems. If anything occurs it would be on the manufacturer, not walmart.
This Was The BESTEST Thing In Existence! There's just So Much Happiness bundled into one set! My daughter and I are STILL have the Grandest Time playing with this and we will for quite some time to come. Seriously, this set is terribly fun. Not only were the rides fun to put together with my daughter but then playing with them afterwards is quite a treat I must say. My daughter and I are truly becoming Lego addicts and it's definitely because of this set right here. There's a TON of FUN packed into this set here and a Whole Lot of Imagination yet to be found within us all.
This is one of my 6 year old's first Lego sets. she loves it and we can't wait to expand the amusement park, with a lot of the accessories. My daughter is hoping we could expand the roller coaster, by purchasing additional track. Please tell me that is an option?
With the additional discount, this purchase made it an exceptional value. My 10 year-old was astonished by the sheer size and myriad parts. It was openly immediately and executed in sheer innocent joy – a gift to any parent observing. The instruction booklet was simple to follow and the sections of the amusement park were distinctly separated in plastic baggies. Patience and meticulousness are value-acquired by-products! The completed Lego set now stands on its own shelf – for view but also as a go-to place during break-time from homework and reading.
This was sooo worth every penny, the details, the THEME, everything! I was disappointed they didn't give enough studs for both sides of the ferris wheel, but i used my extras from other sets to fill it in. Great Buy!!! I also bought the separate sets from the same Friends amusement park line.
Perfect for my daughter's 10th birthday. We use lego sets as a father/daughter activity for her and her dad. Very cool set!
LEGO (R) Friends amusement park roller coaster allows you to take a ride in the coaster, get dizzy on the drop tower, or see all the sites at the top of the ferris wheel. 1,124 pieces. Ages 8 to 12. W...
Ride in the roller coaster with functioning light, take a turn on the Ferris wheel, or spin down from the dizzy heights of the drop tower! Includes 4 mini-doll figures. Requires 2x LR41 batteries, inc...
Push the LEGO Friends Amusement Park Roller Coaster around the track, sit a mini doll in the front carriage to activate the light brick, and activate the cool functions as you go! Turn the Ferris whee...