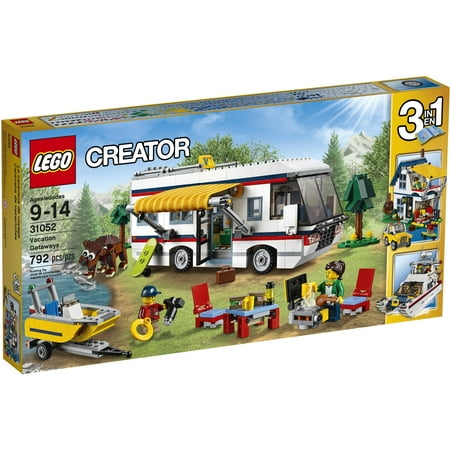 Enjoy travelling adventures with this amazing 3-in-1 LEGO Creator set, featuring an awesome camper packed with everything you need for the perfect vacation, including a luxurious interior with toilet, fold up bed, kitchen, sofa and TV. Unpack the foldout table and chairs from the camper's roof, extend the awning and enjoy a peaceful barbecue. Then take the motorboat for a spin, try some bear spotting or study the map and plan your next journey in the wonderful camper! Rebuild to create a perfect summer home or an awesome yacht.
LEGO LEGO Creator Vacation Getaways Building Set, 31052:
Includes 2 minifigures, plus a brick-built bear
Features a camper, trailer with a motorboat and 2 trees with grass and flowers
Camper features a white color scheme with dark-blue and red stripes, yellow striped foldout awning and a detailed interior including a toilet, fold up bed, kitchen, sofa, TV and luggage, plus roof storage for a foldaway barbecue and table and 2 foldaway chairs
Fold up the bed to access the storage area
Trailer features a removable boat with outboard motor
Remove the camper roof, windshield or rear section to access the detailed interior
Attach the trailer to the camper and head for the open road
Fold out the table, chairs and barbecue and prepare a delicious meal in the country air
Accessory elements include sandwiches, fish, chicken leg, life preserver, map and suitcases
This set offers an age-appropriate building experience for ages 8-12
This set includes over 750 LEGO pieces
3-in-1 model: rebuilds into a summer home or a yacht
Camper with trailer measures over 3″ (10cm) high, 14″ (36cm) long and 3″ (8cm) wide
Summer home measures over 6″ (16cm) high, 6″ (16cm) wide and 4″ (11cm) deep
Yacht measures over 5″ (15cm) high, 9″ (24cm) long and 3″ (10cm) wide
reviews
As an AFOL (adult fan of Lego), I prefer sets that look nice on a shelf to add to my collection but also are fun. This set meets both of the criteria. This was fun to build and had lots of surprises along the way. I couldn't stop smiling once it was put together. Since I received this as a gift, I even made a video to send to the gift giver as a way for them to see how enjoyable this set is. I particularly enjoy the 3 in 1 sets since they can be rebuilt different ways. For the first build, 99% of the pieces are used. For the other two builds not as many pieces are used, but you can use your imagination to build other things. I love all the details that were put into this set, and I especially like how this is a completely different set than the other existing Creator sets. This one truly does feel like a campground trip. Definitely add this set to your collection! You will enjoy it!
My 6yr old loves Lego's, especially the Creator 3-1 series. Normally he gravitates towards vehicle-only builds and robots, etc that are fairly challenging, but he had expressed interest in this set while browsing the Lego aisle. His birthday offered us the opportunity to splurge for it. He immediately set to work building the camper. Having to take a break for summer school was not well received, and he rushed back to the build as soon he returned. This set offered him a challenge as it is fairly intricate with all the details inside the camper. After completion he had to bring it everywhere as it's really fun to show off all the details. One of the best parts is the set encourages interactive play and use of imagination with all the character details, such as the skateboard, grill, table and chairs, and even sandwiches! The alternative builds look just as much entertaining as the main build. Surprisingly he still has the RV together and hasn't moved to them; a testament to the fun the main build is to play with! Growing up with Lego's myself this is definitely one of the best sets I've seen.
This caravan is so amazing! It is so versatile, with a detailed kitchen, lounge area, toilet and an adequate seating area for driver and passenger. Being practical, it has two folding out areas and the kid's bedroom can be pulled out. The kid also has a bed with underfloor storage. WOW! Included is an ultra cute bear, a boat and trailer, two trees and a picnic set! That is loads of goodies to play with. If only it could have been wider.. The house is OK. It has a folding interior with a bedroom, toilet and kitchen. However, the kid's bedroom is tiny and the house isn't as good as the caravan. At least the car was cool… Finally, the yacht is brilliant! It is full of luxury (though it lacks a toilet) and it looks very stylish. The minifigures don't sit properly on the beds but still, the yacht is fun to play with, though it isn't exactly floatable. This set is really good and fully recommendable. Definitely buy this set and have fun playing with it!
My son has been playing with his LEGO creator for nearly a month and just loves it. The age range should be viewed as indicative only. My son has not yet turned seven and has been able to build the boat with no help. It took some time at the beginning, though.
All 3 of the builds are phenomenal, and I am considering buying another set to place inside my city. The camper and smaller builds added a whole new section to the city for the camping grounds! The house is an incredibly detailed and fits in perfectly with the modular family homes, the yacht fits with other seaside sets. The camper is a little large for streets in comparison to other vehicles for city, but I think that is made up for by being that big for playability and posing ability. Highly recommend for anybody! It also fits in very well in any type of setting, and mixes well with my recommendations! Great job, Lego!
Very well thought out set. Great detail and fun colors. Would recommend to any lego fan.
This is one of those sets that could have been very good, but ended up being disappointing, mostly from a value perspective. I thought I'd treat the kids one weekend with a lego day and gave my sons the 60117 Lego caravan and car (which one of them really wanted), and the 60057 Campervan which I'd had in the cupboard for many months. For my daughter and myself I picked up the Vacation Getaways box .. a fun trio of travelling sets. My sons loved the City sets, they were fun to build, showed neat building techniques and looked great. My daughter and I built up the creator Getaway RV kit. Cutting to the chase for the low scores .. The RV, although being a good build, is let down by the sloppy and basic/poorly designed boat, tree's and I have to say the bear. Sure everyone else loves the bear, but it seems more like making up a Mixel then a neat animal. While city sets are easy and fun to play with, the RV seems like a missed opportunity in many ways. The worst part though is the price. Sorry Lego but 'whoa' this one is crazy expensive. You can buy 4 (or 5) city sets like the caravan and campervan in comparison, and is this set 4 to 5 times as big / good / encumbered with pieces ? Sadly, it's not. From a family values PoV this one falls flat. I do really like the RV and my daughter, sons and I have great fun playing out camping stories with all three sets, but it just falls flat on value for money. Most other Creator sets like the Detectives Office was awesome, showed skill and rewarded your purchase with endless bags of parts. Likewise City sets are excellent value and great fun to build and play with. As an 'in the middle' set this just needed something else to make it shine.
Create Your Dream Vacation with the LEGO Creator Vacation Getaways Discover the great outdoors with this 3-in-1 Vacation Getaways Set that can transform into a camper, summer home or yacht. Take a rid...
Enjoy travelling adventures with this amazing 3-in-1 LEGO Creator set, featuring an awesome camper packed with everything you need for the perfect vacation, including a luxurious interior with toilet,...