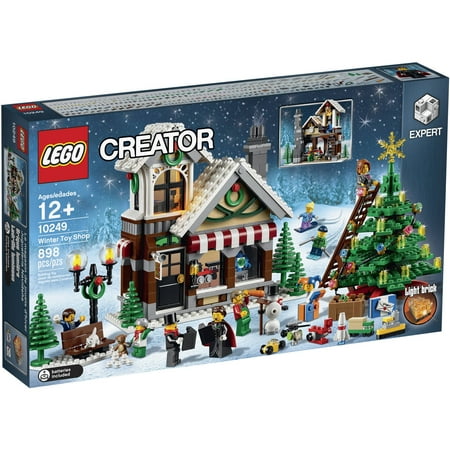 Welcome to the Winter Toy Shop! The holiday season has arrived and the toymaker is busy finishing off his latest creations! Outside, children ski and snowboard, and a freshly built snowman sparkles in the light that shines from the toyshop tower. Help decorate the huge tree that stands at the center of the square, play with the curious kitten on the cozy wooden bench or join in with the carolers beneath the ornate streetlamp. This charming set also features a ladder, trees in various sizes, jack-in-the-box, a toy biplane, helicopter, rocket, train, race car, truck, robot, tugboat, teddy bear and a wrapped gift. Have fun building this enchanting winter wonderland! Includes a snowman and eight minifigures with assorted accessories: a male caroler, female caroler, a woman, two men, two boys and a girl.
LEGO Creator Expert Winter Toy Shop, 10249:
Piece count: 898
Includes 8 minifigures with assorted accessories: a male caroler, female caroler, a woman, 2 men, 2 boys and a girl
Features a toyshop, large Christmas tree with decorations, ladder, bench, ornate streetlight, carrot-nosed snowman and a cat
Toyshop features a LEGO light brick, cash register, clock, chair, table, tools and a ladder
Accessories include:

A wrapped gift
Snowboard
Skis
5 wreaths
2 sets of strings lights
2 top hats
2 carol songbooks
10 toys including: a jack-in-the-box, a toy biplane, helicopter, rocket, train, race car, truck, robot, tugboat and a teddy bear element

Also includes trees in various sizes and snow elements
Includes 898 assorted LEGO elements
Gather the family for some festive LEGO building fun
Light up the toyshop tower with the LEGO light brick
Decorate the Christmas tree
Enjoy the holiday season with this fun, festive model
Winter Toy Shop measures over 6″ (17 cm) high, 7″ (19 cm) wide and 3″ (10 cm) deep
Christmas tree measures over 5″ (15 cm) high, 4″ (11 cm) wide and 4″ (11 cm) deep
reviews
Ordering and the pick of was fast and easy. I would definitely use the online shopping option again.
Even though I'm older, my grandson loves Legos. They look so beautiful put together. So when I saw the Winter Toy Shop on display, I fell in love with it. I really enjoyed working on it. I really got this one because of the beautiful Christmas Tree. I loved turning the pages of the booklet and work just like a puzzle. Now I have it displayed in a shadow box on my book shelf for all to see.
This set is lovely. My two young children helped build this with my husband and I. It is going to be a new Christmas tradition! I love that the toy shop, lights up! And it's a great way to spend time with our family!
Love the set wanted it for a while now just when ahead this year and did it along with the Holiday train and Santa's workshop.
I havent bought a proper lego set for years & have very fond memories of lego so thought i'd treat myself to a set instead of just the minifigures. Oh the memories – just like riding a bike, once you are in the building zone everything else you were supposed to do just isnt important! There are a few more specialised pieces than the last time I played & some new clever ways to fit all the pieces together, though I was expecting something to move & happen with the way the roof connects on a door like swing clip (which it doesn't) & same with some of the upper walls but i'm guessing thats just how lego has evolved while I havent been playing!! All in all a good set & satisfying once completed. Now which shall I do next….
I had a blast putting this set together! Even though I bought and built it before Christmas, it's a great set to help get in the holiday spirit. I love the look and detail of the Toy Shop and tree, as well as the minifigures. I would have liked perhaps another light brick with the set, specifically for the bottom portion of the toy shop. I highly recommend it!
While this isn't the exact same set, it is so identical in color, shape, design and name that a casual viewer would consider it to be the same Winter Toy Shop set that was released before. We look forward to the new holiday set to add to our village every year and are very disappointed that there won't be one. I can't believe LEGO couldn't come up with a new one for those of us that like to get a new one every year. I did have my husband pick one up for a friend who doesn't have the original toy shop, but I won't be buying one this year.