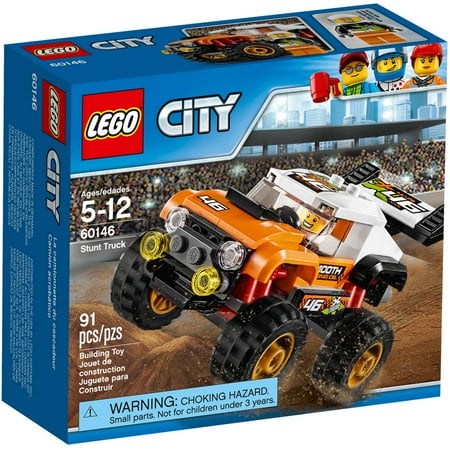 Get behind the wheel of the LEGO City Stunt Truck and prepare to make some big air jumps, featuring a truck with a big rear wing and big knobby tires, plus a minifigure.
LEGO City Stunt Truck 60146:
Age range: 5 to 12 years
Includes a Stunt Truck driver minifigure
Features a big rear wing and big knobby tires
Stunt Truck measures over 2″ (6 cm) high, 4″ (12 cm) long and 2″ (6 cm) wide
Contains 91 pieces
reviews
This set looks really good as I love the colour scheme and the big tires, making it have an aggressive look. They slanted the truck which was a clever thing to do, and it adds to the aggressive look it has. The stickers are vital as they have a very good effect on how the set looks. Also, it has a lot of building involved and is really fun to build. One thing that could be done to make this set even better is to add a tiny bit of terrain in!
I like this Stunt Truck and it's a nice and cool little build I also like the orange and the white with some black mixed in and makes this look very cool I also want to point out that the front of this truck looks like the Toyota SRX which is a very cool SUV.
I bought this to try it out before getting one for the grandkids. I was impressed that everything fit together nice and solid. I liked the parts that were used. The stickers slowed my big fingers down but kids will do fine, (there are 7). I will be buying one for each of my grandkids as I can't beat the price for something they will play with a lot.
Good Truck has new parts great mini figure great set
Bought this for my son a few weeks ago as he is 4 and just now getting heavy into Legos. He picked this one out due to his love for monster trucks as well. He LOVES it!! It was easy to build and he did most of it by himself. I did have to help him with where the pieces went, but he put it together by himself. The one con I have with this is that the spoiler seems to come off or fall apart fairly easy. The top where you out the driver in seems to just sit on the piece instead of snapping on too. I don't know if we just got a bad one or its just the way it was built. Overall he loves this and plays with it for hours.
Too small blocks for little kids. I feel LEGO city prices are hyped compared to the products.