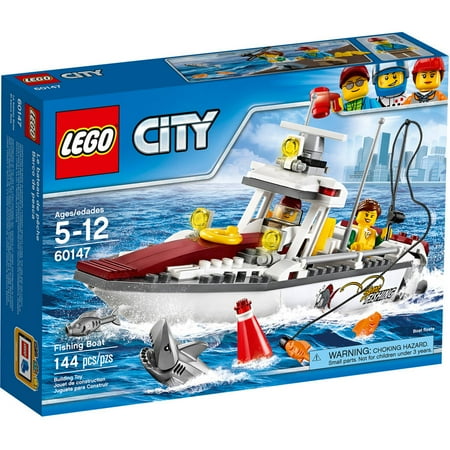 Get behind the controls of the LEGO City Fishing Boat, featuring two motors with spinning propellers, swiveling chair with a hook for the fishing rod, canopy with driver's console, plus three fish, a shark figure with an opening mouth and a buoy. This set includes two minifigures.
LEGO City Fishing Boat 60147:
Age range: 5 to 12 years
Includes 2 angler minifigures
Features 2 outboard motors with spinning propellers, canopy with driver's console and a swiveling chair to fish from
Also includes a shark figure with an opening mouth
Cast a line out to catch some fish
The Fishing Boat floats
Accessory elements include 2 life vests, 1 grey fish, 2 orange fish, fishing rod and a buildable buoy
Fishing Boat measures over 4″ (11 cm) high, 11″ (28 cm) long and 2″ (6 cm) wide
Shark figure measures over 2″ (7 cm) long
Contains 144 pieces
reviews
Nice little boat. Kids like catching the fish and the shark with the fishing pole.
My son likes that the bottom was one big piece and the fishing chair moves. I wish it was a little bigger. Lots of little details on it.
I am very happy LEGO has released a new boat. I think for kids the playability in this set is nice. The driving compartment, fishing chair, fishing rod, three fish (two orange and one grey), and a Shark (which can fit the fish in its mouth) are great for play. I also think this set is valuable for AFOL's (Adult Fans Of LEGO). Including a boat haul in an inexpensive set is very nice. I do think the "Sport Fishing" sticker is too specific, and wish LEGO would have gone with a more generic design. Thankfully, if you don't like it, you can just leave it off. Overall this is a nice set, and I am glad LEGO released another boat.
This is a very nice set. I really like the fishing rod and the shark. The minifigures are really cool. Its very well rounded, for instance the buoy, which could be a marker to show the fishers where the best fish are. There is also 2 compartments that you can put fish in. They are not in the pictures, but I included one in the pics I posted. This boat is very much improved from the last one, though the other was cool. all in all, this is a great set and very cool.
I put this toy together for mu 4 year old granddaughter's birthday present. Good instructions that were easy to follow. She has not seen the boat yet but based on her playing with other similar lego city toys I think she will love it.
my child was overjoyed that she got this for her birthday, even more when she realized it can go in the tub with her.