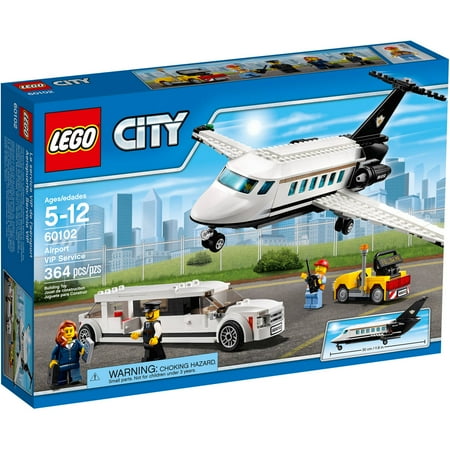 Make sure you have all your important papers packed and ready! Help the pilot get the private plane ready for the next client, who should be arriving shortly. Drive the businesswoman to the airport in the limousine and make sure she gets to her plane on time. Take a seat and buckle up — it's time for takeoff!
LEGO City Airport Airport VIP Service Building Set, 60102:
Includes 4 minifigures: a businesswoman, pilot, limousine driver and an airport service worker
Features a private plane with accessible interior and turning nosewheeel, private limousine with accessible interior and a private airport service vehicle
Accessory elements include a laptop, glass, croissant, ice cream and a walkie-talkie
Drive the private limousine around and make sure the businesswoman arrives on time to the loading area
This set offers an age-appropriate building experience for ages 5 and over
Private plane measures over 4″ (12cm) high, 12″ (31cm) long and 12″ (33cm) wide
Limousine measures over 1″ (4cm) high, 8″ (21cm) long and 1″ (4cm) wide
Airport service vehicle measures over 1″ (4cm) high, 2″ (7cm) long and 1″ (4cm) wide
reviews
It's a long time since a LEGO set made me so happy. I got this set for my brother's 6th birthday and it was a pleasant surprise for both of us. The inside of the plane and the car feels very luxurious and the details are amazing.
My kids and I think this is a great set. The plane is an excellent size and good shape but I think the limousine got more attention than the plane! I mean who can compete with a fridge with a popsicle inside. The plane itself seats three mini figs and the pilot however the kids try and fit many more passengers in including the cargo hold. The only negative is not directly from this kit but related is the apparent lack of Lego runway baseplates.
Nice airplane, but it has a few problems. The LEGO person can't fit inside the airplane because of the tile above it. So I had to move her to a different place. But otherwise I love it!
I really like the plane in this set and the minifigs. The little truck is a nice change instead of the usual fuel truck with an airport set. I'm not a huge fan of the limo. It seems kind of chunky to me. I may try to rework the design for my tastes and even if that doesn't work, there are still great bricks in it to build another vehicle, or almost two, since it uses two vehicles bases for a frame.
this is trash if you have no motive to build a lego city , great for kids but if you're an adult with no lego city set up its no good.