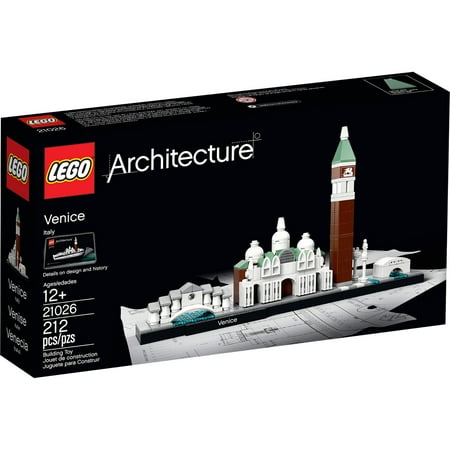 Capture the architectural essence of Venice with this magnificent set that brings together the iconic Rialto Bridge, St. Mark's Basilica, St. Mark's Campanile, St. Theodore and the Winged Lion of St. Mark, and the Bridge of Sighs, in an inspirational skyline setting. Each individual LEGO structure is designed to provide a unique and rewarding building experience, with true-to-life color and relative scale depiction. Rivers and canals are represented in the tiled baseplate, adding an extra dimension and feel of authenticity to this detailed recreation of one of the world's most beautiful cities
LEGO LEGO Architecture Venice 21026:
LEGO interpretation of the Venice skyline
Features the Rialto Bridge, St. Marks Basilica, St. Mark's Campanile, St. Theodore and the Winged Lion of St. Mark, and the Bridge of Sighs
Venice's rivers and canals are represented by blue tiles in the baseplate
The included booklet contains information about the designer, architecture and history of each structure, as well as historical facts about Venice and its architectural heritage (English and Italian language only
Other languagesavailable for download at LEGO.com/architecture
Ask your parents' or guardians' permission before going online)
St. Mark's Campanile features a special deco of the Winged Lion of St. Mark
Includes a 4×32 tiled base with decorative "Venice" nameplate
Recreate the world's most beautiful cities with the LEGO Architecture Skyline Collection
LEGO Architecture celebrates the world of architecture through the medium of the LEGO brick, and is developed for all with an interest in des ign, architecture and history
Measures 5″ (14cm) high, 9″ (25cm) wide and 1″ (3cm) deep
reviews
this is not a set for everybody, but it was very fun to build it, and at the end it looks great! i needed to do some changes to make it work because i lost some parts, but it looks the same.
I bought this for my self and this model fidnt disapoint. I have been collecting architecture sets on places i have been and this so far has been my favorite.
I understand it is hard to get details in such a small set. Slightly disappointed though in some of the details that are there. Overall, though, I wouldn't miss it with the rest of my UK sets.
Look good except London buses can't go down The Mall as they can't get through Marble Arch. Some sub-assemblies are hard to fix to the model because of the low number of connectors.
This set was probably one of the best ones that I've built so far in the Architecture series! It was pretty challenging, but the end result came out amazing afterwards. I've been trying to find space to display it since it's pretty wide but otherwise I love the size!
Fun to build, it seemed accurate to me after visiting the actual palace a year ago. I love the miniature double decker bus, super cute! The fountain, frankly, was a tad disappointing, but other than that, overall it was fun to build and admire!
I haven't put together Lego together in a very long time. So while shopping for a set for my son I came across this one for me. While assembling this one it brought back memories when I was a little boy. I will be ordering my next one very soon.
I really love the Lego architecture sets and have built most of them, especially the Frank Lloyd Wright edition, and as a native Londoner I was very keen to see what the Lego team had done to capture a building that I used to walk past at least 3 times a week. Regrettably I was very disappointed on so many levels. While Lego could have done so much with this world landmark it really fell short in my opinion. I find the detail lacking compared to other sets and even the color is far from the real building. Maybe the Lego team just didn't do their research, maybe they were just trying to cut costs or maybe their choice of a small scale limited their ability to provide a high quality set. The build itself was not at all challenging and the result is not very impressive. I have a 8 year old boy that could have easily created something similar in no time at all. Sadly I will not be recommending this set to fellow architecture builders and don't rate it as good value for the money. Sorry Lego.