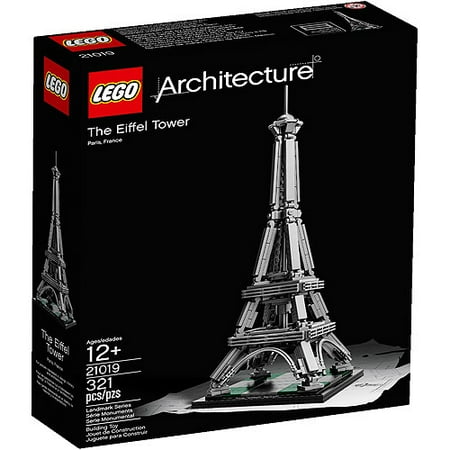 Presenting the LEGO Architecture interpretation of one of the most iconic landmarks ever constructed &mdahs; The Eiffel Tower! Designed and built by French entrepreneur, Gustave Eiffel, the 324-meter-tall masterpiece formed the grand entrance to the 1889 World's Fair. During construction, the 18,038 wrought iron elements making up the tower's lattice structure were bolted together at Eiffel's factory before being transported to the site, hoisted into place by steam-powered cranes operating from the elevator shafts and assembled using 2.5 million individual rivets. The resulting structure was extremely rigid and has withstood storms, floods and everything else mother nature has thrown at it. Today, The Eiffel Tower is one of the world's most popular landmarks, attracting millions of visitors from around the world each year.With this exceptional model, you can now build a 321-piece LEGO Architecture Eiffel Tower in LEGO brick form and display it in your home, office or wherever you like!
With this exceptional model, you can now build a 321-piece LEGO Architecture Eiffel Tower in LEGO brick form and display it in your home, office or wherever you like!
LEGO Architecture The Eiffel Tower Building Set:
The LEGO Architecture Eiffel Tower has 321 pieces
Interpretation of the real-world architectural landmark
Booklet includes details on design, architecture and history of the tower (English and French languages)
This LEGO landmark measures over 12″ high
LEGO Building Set Model# 21019
reviews
My favorite lego architecture so far thanks to the different lego pieces and building process, inherent to the eiffel tower format. Definitly respects the real Eiffel tower
My 7 year old son did famous structures in school this past year and really enjoyed building on himself! He is very excited about getting others from the Lego Architecture Series!
Being my second Lego of this great Architecture collection, I enjoyed it very much. The instructions were clear and I was excited about building this amazing tower. The only areas I'd suggest to improve are the radio antenna (perhaps add an extra thinner antenna), the colour of the bricks (they are too grey whereas the real tower is made of puddling iron and not steel) and the cross sections to make it look more like the real one. Overall it was quite enjoyable, the four pillars, the iron platforms and the four arches are well made. It kept me busy for a while. Looking forward to my next set!
Bought this for my grandson to built. Has not started it yet but he loved it he wants to go to the Eiffel Tower sometime
Bought 2 for my grandchildren. One loves Paris and all the buildings and the other made it as an anniversary gift to his parents. They got engaged at the top. It is tricky to build in places,so you must pay close attention to the detailed directions. It is a great piece that is well put together and detailed. We enjoyed building it together. Both children were happy with their result!
Was given this as an Xmas gift, and thought OK… Built it that evening and glad I did! My introduction to the Architecture range has been sparked, and I will be buying more when funds allow. Some clever engineering and the slightly twisted use of everyday elements has produced a model well worthy of display. I particularly liked the idea of the printed dual language title strips (The Eiffel Tower/La Tour Eiffel) which I arranged on either side of the base.
Just what I ordered. Received on very timely basis. Thanks for helping me with my holiday shopping.
Although the product is quite pretty, and fun to build, structurally it is not particularly sound. The area where the top half and bottom half are attached is designed in a way that the top half can not be properly attached, and can only sort of balance without any real support. Not only does this make the product look a bit off, it also makes it very fragile.