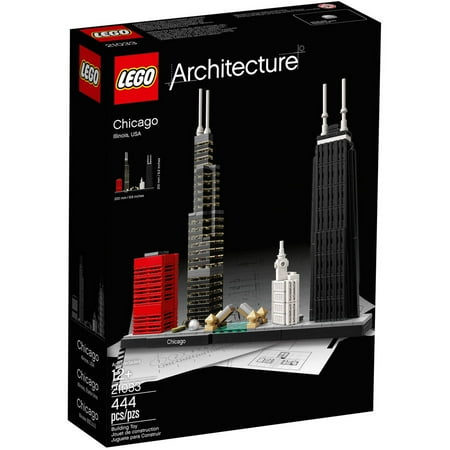 Recreate Chicago's blend of historical and modern architecture with this realistic LEGO brick model. The LEGO Architecture Skyline Collection offers models suitable for display in the home and office and has been developed for all with an interest in travel, architectural culture, history and design. Each set is scaled to give an accurate representation of the comparative size of each structure, with true-to-life color depiction. This set features the Willis Tower, John Hancock Center, Cloud Gate, DuSable Bridge, Wrigley Building and the Big Red and is finished with a decorative "Chicago" nameplate.
LEGO Architecture Chicago 21033:
Age range: 12 years and up
LEGO Architecture interpretation of Chicago
Features the Willis Tower, John Hancock Center, Cloud Gate, DuSable Bridge, Wrigley Building and the Big Red
The Chicago River is represented in the tiled baseplate and the DuSable Bridge opens and closes
The included booklet contains information about the designer, architecture and history of each structure, as well as historical facts about Chicago and its architectural heritage (English language only — other languages available for download at LEGO.com/architecture)
Includes a 4×32 tiled base with a decorative "Chicago" nameplate
Recreate the world's most beautiful cities with the LEGO Architecture Skyline Collection
LEGO Architecture celebrates the world of architecture through the medium of the LEGO brick and is developed for all with an interest in travel, design, architecture and history
This set includes over 440 LEGO pieces
Measures over 7″ (20 cm) high, 8″ (22 cm) wide and 1″ (5 cm) deep
reviews
it is an amazing product for new builders since its easy but it still gives you a little challenge so you can learn to get better. so you can move on to bigger and harder sets.
I have been building for 5 years and this set is on the top of my list!
I love this product! living in Chicago I have seen these building a lot and the lego builds look like the buildings in real life.
The new Chicago skyline set is a welcomed addition to the Architecture series. Not only does it show off some of Chicago's greatest landmarks, but it gives that ones that have been sets previously in the series greatly needed upgrades, especially the John Hancock Center. This new version leaves less to the imagination like its predecessor and looks more like the truly iconic building we all know. The fun little details like the DuSable Bridge and Cloud Gate made this all the more enjoyable. A fun build and a set finally worthy of showing off some of Chicago's great architecture.
Nice model that's another easy build and expcellent dis-lay piece. Manages to pull together the landmarks that best represent Chicago.
Building this set was awesome. The John Hancock building was a bit tricky. The tricky part was when I had to place it on the foundation. Other than that it was an easy built from the get go. I wished the bean looked more like a bean, but still cool that they added it.