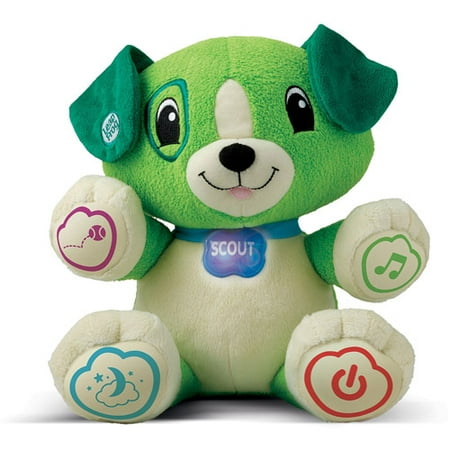 Snuggle up to learning with a true best friend! My Pal Scout is the lovable puppy who can learn your child's name and favorite things, for personalized daytime learning and nighttime comfort. Sing, play and move along to more than 40 songs and melodies. Personalize the learning in 15+ activities by teaching Scout your child's favorite food, animal and color. Scout will even help your child spell his or her name!My Pal Scout is easy to personalize, right in the box, with your smart phone, tablet or computer, so he can say your child's name the very first time they meet! Designed for little ones ages 6 months to 36 months, My Pal Scout teaches first words, feelings and emotions, counting and colors. He also features a lullaby timer with 5, 10 or 15 minutes of bedtime music, a blinking collar and volume control to help little ones transition to quiet time.
LeapFrog My Pal Scout:
Teach Scout your child's name and favorite things for personalized learning in 15+ activities.
Listen along to 40+ learning songs, melodies and lullabies, for active daytime fun and nighttime soothing.
Teaches first words, feelings and emotions, colors and counting.
Connect Scout to your smart phone, tablet or computer for easy personalization while he's still in the box.
This cuddly pal is recommended for children ages 6-36 months.
Warnings
:
Warning Text: Packaging ties and pull tabs are not part of this toy. For your child's safety, remove and discard the packaging ties and pulls tabs before giving this toy to your child. The USB cable could be a strangulation hazard. Keep out of reach of children under 3 years of age. The USB cable must be used only by an adult when connecting to a computer and is to be removed by the adult prior to the use of the toy by a child. Do not allow child to play with the toy if the USB cable is attached.
Directions
:
Instructions: Use only the included USB cable. Using any other USB cable may exceed FCC and other regulatory emissions limits.
reviews
I got one for my nephew a few years ago, he loves it so I got one for my son, hoping he enjoys it just as much!
I bought this online at Walmart for my 6 month old grandson after seeing it in another store. It is so cute, but it's probably a little to advanced for what he can do now. He likes the lights and the sounds and I'm sure in a few months he will enjoy all the other features. This company's products always last so long and are very good quality. I still have many that I bought for a granddaughter years ago and they still work and she's 25 years old.
My niece was looking for something similar that she could not find anywhere. ( I had no idea she was looking for something like this). I was shopping for her one year old and I liked this. I shipped out to California and it arrived before Christmas. I left it unwrapped in case she wanted to program it before Christmas. She was soooooo happy with it, she gave it to him before Christmas. He loves it too!
My son has wanted this for years. I thought, "It is a baby toy." And wouldn't buy it. I decided to get it for him this Christmas. I was able to personalize it before it was out of the box. My son loves this toy. Although we have only had it for a week, this stuffed animal has been all over and is still working great. It is not just a baby toy. Toddlers and small children can enjoy it too.
This is a fun toy… My 4 year old daughter absolutely loves it. We've bought one for a friend also because it's so fun. You can customize it to say your child's name and sing about things your child likes. Only complaint is you can't throw it in the wash… It gets a bit dingy when it's well loved. Could be used from birth to well into preschool/kindergarten.
This is a great toy! Easy to program my sons name while in box! When on and interacting with my son he says his name all the time and has a song to help him learn to spell his name. I love it and so does my son!
I bought a number of Scouts and Violets for my nieces, nephews and friend's children. When I bought one for my daughter, it is the "updated" version. I got it home and was surprised (not in a good way) that the only thing that can be customized is the name of the child. The older versions had the ability to choose a wide selection of songs. The new version you get the few songs that are loaded on it and no more. Major disappointment and in two months my daughter is already getting bored with the lack of variety. My niece and nephews were entertained for years with the older version as the songs could be updated as they grew. Steer clear of the new version. It's a major disappointment!