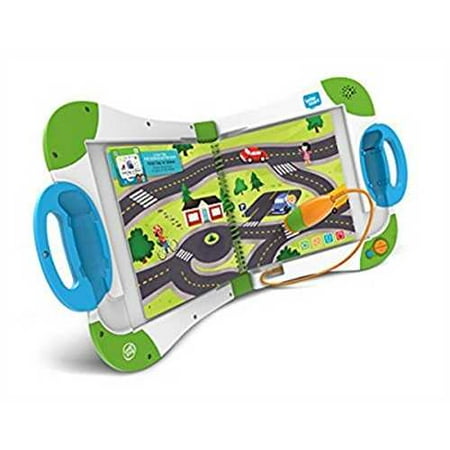 Tap into big fun with the amazing, all-in-one LeapStartinteractive early learning system for Preschool and Pre-Kindergarten, jam-packed with key school and life skills for curious two to four year olds. The system works with a library of replayable activity books (sold separately) and comes with a Preschool and Pre-Kindergarten sampler book.
The LeapStart interactive learning system is designed to help build key skills and challenge kids to get ready for their next step in learning. Get kids excited about everything from counting to creativity, phonics to problem solving, and shapes to social skills with replayable activity books bursting with fun on every page.
Replayable activities get kids excited about learning
Grow-with-me stylus promotes proper writing grip and triggers engaging audio
Activities include two levels so kids can play and learn at the right level
Library of more than 25 books (each sold separately), including two Learn to Read book sets
Introduces everything from ABCs to music for a well-rounded curriculum
Library of 400+ activities teaches preschool through first grade skills
Kid tough device with carrying handles for on-the-go play
reviews
This system is our go-to choice when my youngest needs to take some time away from the screen. It's a fun, engaging educational toy that still feels high-tech to him, even without the screen. I love how much he learns from it during his playtime, and can't wait to see what else he picks up in the future!
The Leapfrog Interactive Learning System is an amazing interactive toy for kids 2-7. My 4-year-old loves this system! The library features touch and talk games that the kids just loved. *note: This product has been provided by LeapFrog so that we could experience it with our family. All thoughts and opinions are my own.
What a fun toy for young children! It has everything kids want at this age – sounds, touching, music, learning and their own writing stylus. There is different play levels so many ages can play and it grows with your child! It is great for families on the go, long car rides and anytime children want to learn and have fun! I love how it folds up and is easy for any child to carry by themselves! The product has been provided by LeapFrog so I could experience it with my family; however, the thoughts and opinions are all my own.
My four year old loves his Leapstart Learning System! It's helping him solidify his recognition of number and letters, and he absolutely loves being able to read "his own books" just like his older brothers. There are plenty of activities and games packed into each book, and he goes back again and again to read and play his favorites. I love that he chooses this over "screen time", and that we are building a love of reading early on. His teachers are crazy about it too! I'm glad that he's even closer to being prepared for kindergarten in a way that helps him realize learning can be fun! The product has been provided by LeapFrog so I could experience it with my family; however, my thoughts and opinions are all my own.
We have 2 of these and love them. I have one for each child and they have been fun for the kids to play with when they don't get to have screen time. We love all the LeapStart Books and how interactive they are. The stylus is great cuz it is attached to the pad. This pad is durrable and great quality (yes my boys have dropped it and it was just fine) One feature I do with this had is a non battery feature like the Leap Pads do where they can be charged! I received this in exchange for a review. This is 100% my opinion.
My daughter is soon to be 5, and loves this! She has been mastering her numbers,letters and basic preK stuff – now moving onto challenging herself to learn more. As a homeschool mom I LOVE products like this, this is perfect for her. Instead of naps, her quiet time consists of her taking one of her toys to play with, and this is one of them. It promotes fun independent learning while teaching her so much. My daughter has taken over this and all the books we have at the moment, but her younger brother (2) loves his turn too. So much to learn and play with, especially with the books you can purchase as an addition for your child to keep learning. The stylus is easy to use for them. Highly recommend this for children! The product has been provided by LeapFrog so I could experience it with my family; however, my thoughts and opinions are all my own.
Ok so I have been raising kids for 21 years used these leapfrog products with my older kids figured I do the same with my 5 year old. Well this is the second system I had to return because it makes this weird noise.. and the items you have to download on the computer in order for the books to work gives you a lot of problems. And some stores are selling old versions that mix you up with old and new books it's to complicated. I know we are in the 2017 we all Technology. But going old school works and sensory touch works I work with disabled adults and children so iPhones and fancy gadgets don't do sometimes.
Provide early elementary students a learning boost with this LeapFrog LeapStart Kindergarten & 1st Grade interactive system. Compatible with all of LeapFrog's books (not included) , this system le...
Help Your Little One Grow with the LeapFrog LeapStart Interactive Learning System for Kindergarten and 1st Grade The LeapFrog LeapStart Interactive Learning System for Ages 5-7 is a fun and engaging e...