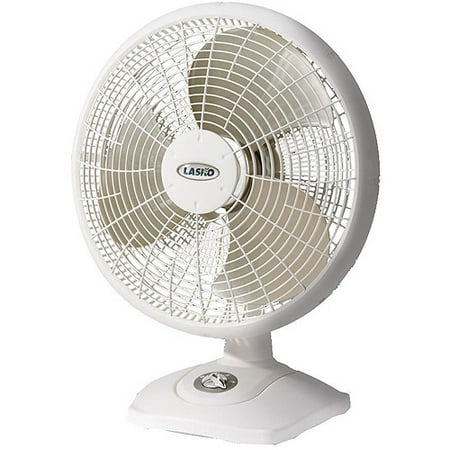 Bring home the Lasko Products 16″ Table Fan (2506LASKO) and stay cool during hot summer days. It measures 406 mm in diameter and is designed to effectively circulate the air in a small room, living room, kitchen or bathroom. This oscillating table fan has an advanced grill design that ensures maximum safety to you and your whole family, especially the kids. A three-speed design lets you increase or decrease the air flow according to your liking. The operation is completely silent. The Lasko Products 16″ Table Fan (2506LASKO) comes with a six-position pivot that you can use to direct the air anywhere you want. It also includes an optional 90 degrees oscillation feature to target the entire room at once and provide extensive comfort and ultimate cooling. This white table fan has a soft body with copper and chrome accents that will mesh well with most any home decor. Assembling this unit is quick and easy.
Lasko Products 16″ Oscillating Table Fan, White:
Oscillating table fan with 406 mm diameter
Adjustable to three speeds
Advanced grill design for maximum safety
Six-position pivoting head
Rear carry handle
Front-mounted controls
Includes safety plug
White table fan with soft body and copper and chrome accents
Requires minor assembly, no tools needed
reviews
I highly recommend this fan. The quality is beyond what I knew was possible
I PURCHASED THIS FOR MY BEDROOM. NOW THAT I'M ON OXYGEN THE MACHINE WARMS UP THE ROOM. THIS FAN IS PERFECT FOR CIRCULATING THE AIR. I RUN IT NONE STOP. I HIGHLY RECOMMEND. I HAVE A STANDING ONE IN THE LIVING ROOM WHICH RUNS 24/7 AND I'VE HAD IT FOR 2 YEARS. SO, THEY APPEAR TO BE VERY WELL MADE.
It was easy to put together. We have it in the bedroom and it's very quite. The fan on low blows volumes of air.
It was easy to assemble and worked out great for us very well for indoors. Very pleased.
This is a great fan. They just need to carry it in the store. Really good for a room that does not have a ceiling fan. Love the size of it.
The fan is a good fan. Cools nicely but in a previous review the writer remarked about how quiet it was. I had this identical fan bought around 2005 and this one is much louder.
I was a little surprised that the fan cage was plastic and not metal and that the fan blade is grey instead of white but I must say that the fan is absolutely silent and produces excellent air flow. The low flow setting is a little strong but this fan is terrific for the price!
Has very high power but not as loud. Yes you can fall asleep to it. If you're using it to cool down it's also perfect. The only down side is that there was a little piece broken off. Not a big deal. Especially since I need it to sleep.
The safety guard would not fit together. The two pieces were so cheaply made that they would not snap together. I am a can do fix-it guy but this plastic junk is on its way back to Wal-mart. Wal-mart has a great return policy and picked up this fan at my apartment and I'm completely satisfied with Wal-mart support.