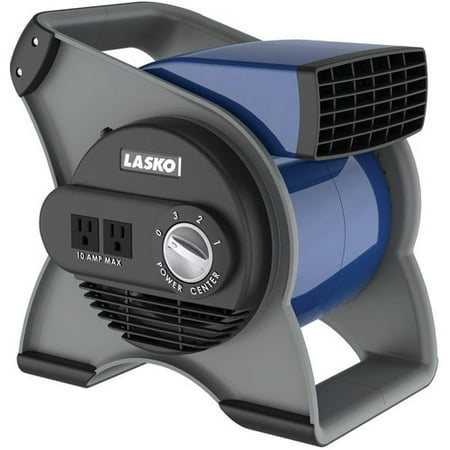 The Lasko pivoting utility fan furnishes three powerful speeds. A pivoting blower head enables the fan to blast air wherever you need it. The multi-purpose fan offers two built-in electrical outlets for power tools, radios or work lights when used in a garage, workshop or basement. A circuit breaker and fused safety plug help protect against electrical mishaps.
Lasko Pivoting Utility Fan, U12100:
3 powerful speeds
Circuit breaker with re-set button
Rugged easy-to-carry handle
10′ cord with grounded plug
Two 120-volt accessory outlets
Pivoting blower head
Fused safety plug
Fully assembled
ETL listed
Lasko pivoting utility fan model #U12100
Note: To reduce the risk of electrical shock and fire please follow these safety instructions for the Lasko utility fan:
Unplug power cord before installing, servicing, or moving the fan
Do not depend on the on/off switch as the sole means of disconnecting power when servicing or moving the fan—always unplug the power cord
Never leave children unattended when the fan is on or plugged in
Wherever possible, avoid the use of extension cords because they may overheat and cause a fire
Do not plug fan into any other cord-connected device, such as a power strip, cord reel, surge protector, multiple outlet adapters or outlet-type air fresheners because the use of such devices may create a fire hazard
Never operate any fan with a damaged cord or plug or after the fan malfunctions, has been dropped or damaged in any way
Do not block or tamper with the fan in any manner while it is in operation
Always place the fan on a stable, flat, level surface when operating in order to avoid the chance of the fan overturning
This fan is not intended for use in wet or damp locations
Never locate a fan where it may fall into a bathtub or other water container
Do not use fan in or near a window because rain may create an electrical hazard
Never use fan outdoors
Never use fan where flammable liquids are used or stored
reviews
This fan is great! It pumps air and has power outlets. I used it at an outdoor festival and it provided instant cooling. I will be purchasing another.
I'm a musician and I use these fans on stage for myself and my bandmates. They're a must have for hot climates like ours, and the additional outlets come in handy for various music-related things (charging iPads, powering pedals, etc). However, I bought the 2-year replacement on the last one I bought earlier this year (around March), which broke. They have been out of stock online and in stores for months! When are they coming back? I wouldn't have bought the extended warranty had I known they were never going to make anymore!
bought one and went back bought and purchased another one, have old my friends and family about it and they too love it, can be used outside, inside, has power outlets to plug accessories in. used while camping also
The guy that works at Walmart recommended this fan to me. He said that it was so powerful to not only cool down your home but you could turn the fan down to quickly dry your floors after they have been washed. He was spot on! I loved the fan so much, I went back and bought 3 more. For my home and my moms home. Love, love, love this fan! I highly recommend this product! I also recommend the Walmart guys great knowledge of the fan AND the great chunk of time he spent demonstrating the fan. I think that my electric bill is not as high because the fans are circulating the air so good.
I needed a good fan, made in USA, and that was compact to fit on a utility truck. This fan saved my life. I plug it into the inverter, and I'm much more efficient and take fewer breaks. I work all day in the hot, Florida sun. To be able to pull this out in an instant is the best part of this fan.
It worked fine… for about two months. I treasure my fans and treat them very, very well. Other fans of mine are still working after 15 years of consistent use, but this one started unraveling from the inside. I gave this fan its 90 days to prove itself, and it fell apart in under 70. Don't waste your money. Bite the bullet and go with a name brand… other than this name.
Lasko Pivoting Utility Fan, U12100:3 powerful speedsCircuit breaker with re-set buttonRugged easy-to-carry handle10' cord with grounded plugTwo 120-volt accessory outletsPivoting blower headFused safe...
The Lasko Max Performance Pivoting Utility Fan offers rugged design and construction and a pivoting blower to direct its powerful air stream.
Gray Unit size: 12 1/4 (H) x 9 5/8 (W) x 12 3/16 (L) Three high velocity speeds